Those Who Handled iPhone, Handed Their Youth to Foxconn
[thb_border]
Foxconn took charge of their jobs, brought them back to hometown from the outside world, and granted them a seemingly stable life. However, Foxconn did it at the cost of their youth. By then most of their time could only be tied to the assembly line.
[/thb_border]
"You mean China's status has declined?"
"Of course." Guo Haifeng took a pause and looked around at his fellow workers with a cannot-be-questioned air. He seemed a little disappointed by their response.
They were in a residential building which served as a staff quarter of Foxconn, located in the suburb of Zhengzhou. The room was simply furnished. The floor tiles had a color of frost and the four iron bunk beds were in light turquoise. Beside washbasins on the ground were randomly placed bowls, chopsticks and teacups.
The curtain in greenish-yellow was always covering the windows, even in broad daylight, so that the night shift could fall asleep fast. Right beside the window was an enclosed balcony which seemed hasn't been cleaned for a long time. There were many discarded shoes, socks and hangers, probably all owned by someone who's already left.
It was, by Chinese calendar, already 28th in the last month of 2016. In less than 24 hours, the general staff of Zhengzhou Foxconn would be able to take the Spring Festival vacation. At 9 AM this day, Guo Haifeng came back from work, but he didn't jump to his bed immediately. He pushed aside things on a table to make place for the baked pancakes and a bag of peeled peanuts he just bought. He fetched some glasses from the cupboard and a plastic bottle half full of white spirit under his bed.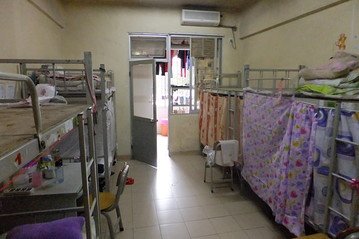 It was like an offhand private party, in which the 39-year-old Guo Haifeng wanted to reveal his innermost anguish to several friends of him with white spirit. With one more night working at the assemble line, it would be perfectly justifiable for him to go back to his hometown in Luoyang to celebrate the Spring Festival.
During the time, Guo Haifeng mentioned what he saw in the laser working station to his fellows: the laser mark on the back of the newest iPhone of China mainland version had been "changed greatly". Comparing to the iPhone6s and 6s plus, it got few words added under "Designed by Apple in California" – Assembled in China.
Saying this, Guo Haifeng asked them intentionally: "Do you know what it means?"
No one responded. He gave his own answer: "It means that the research and development center of Apple is in California, America and the assemble center is in China. Previous to this, words on iPhone were 'Made in China'. And simply this change has already annoyed many Internet users in China."
Guo Haifeng was born in the 70s. He was senior and eloquent. Lin Zhanpeng, a man in his thirties, was used to call him "elder brother" – which was, in most occasions in China, a symbol of seniority and influence. But Guo Haifeng didn't have much influence. His business in Xi'an went down and he went back to Henan to be a general worker in Foxconn to pass "a period of transition", in his own words.
As the most experienced and knowledgeable man in the dorm, Guo Haifeng seemed to have a set of rough explanations for everything. About the "Assembled in China" on the back of iPhone 7 and 7s going into the market in September, 2016, Guo Haifeng thought the deliberate emphasis of the fact was belittling the manufacturing technique of China factories. (What he overlooked is the fact that "Assembled in China" have been on the back of iPhones of China mainland version since the time iPhone5 was published.)
Yet in the next breath, he said: "But Cook (CEO of Apple) also made a promise to Chinese government that a research and development center would be established in Beijing, which involves "intellectual property"…. Since a man of such a status could bow his head, what else do we have to expect? I feel pretty proud for that."
Finishing the speech, he turned to Lin Zhanpeng: "Hey glasses boy, do you know what it means? Do you have any idea?"
"I don't care." Lin Zhanpeng was not interested in answering him at all. Perhaps he already realized that his "elder brother" had drunken too much.
Apart from Guo Haifeng, Lin Zhanpeng barely had any other channels to get information and opinion of the outside world. Neither did he have the intention to search information on the Internet to identify the authenticity of those words of his friends. Sometimes he also echoed others' view. But most of the time he only listened and took in those words.
In the work station of Foxconn, workers were categorized with the color of their working suit. "White-skins" were general workers; "blue-skins" were cadres. In the working place, Guo Haifeng was a new worker in "white skin" and Lin Zhanpeng who had a dozen subordinates was in "blue skin". But outside the working place, they seemed to have their position shifted. The "elder brother" Guo was always the leader and creator of topics. Everyone liked to "listen to him".
Most of the time, whether the topic was true or false was not their point. All that they need was only the emotional stimulus through the talk. It was the major vent for their emotions after repeating and dull production activity.
If they were only "working machines" with few differentials in the working station, then it was at this moment that they came back to "humanity".
---
Apple City
Zhengzhou Airport Economy Zone is to the southeast of Zhengzhou. It is 20 kilometers from the downtown and is closed to the Zhengzhou Xinzheng International Airport. Zhengzhou is called "the city shipped by trains". Since 1949, this once obscure county has achieved rapid development with railways built nearby. After the biggest airport in Central China, Zhengzhou Xinzheng International Airport, was put into operation in 1997, local administration had been seeking opportunities to boost its economy with the airport.
In 2010, Foxconn took a 5.7-square-kilometer area and settled in the Zhengzhou Airport Economy Zone to work exclusively for Apple Inc. With 350,000 workers and 94 assemble lines, now it can produce more than five hundred thousand iPhones in a day. And the finished products would be shipped to places around the world in the Boeing 747s calling at the Zhengzhou Airport. As time goes on, Zhengzhou got another name from its local people – the Apple City. Apart from the advantages in labor price and distribution, local government also provided preferential policy for Foxconn. According to published reports, over the last few years, Foxconn received more than 1.5 billion dollars from Zhengzhou government to build new plants and staff quarters and enjoyed many tax cuts.
An iPhone consists of components from more than 200 suppliers around the world and requires more than 400 processes in assembly. Lin Zhanpeng's job was to do some kind of examination in charging. Everyday, he would deal with more than ten thousand semi-manufactured iPhone.
In these years, the global influence of Apple and its closest partners has been growing with every passing day. Sometimes Lin and his fellow workers would also share part of the pride. But the brilliance of the products barely shines on them.
What shines on them everyday is the dazzling flash light above the assemble lines. In Lin`s sight, the working station of Foxconn was a closed container, containing the orderly placed machines and light tubes. Light products were produced here, on and on to the end of the world. Every time he went out of the working station and saw the red sun or stars above, he would feel the ineffable sobriety.
As the manufacturer of iPhone, workers in Foxconn are hardly able to afford this expensive smart phone. In some sense, the lights in the working station, turned on day and night, are the epitome of Foxconn, representing the reality; the sunlight or starlight outside is the epitome of iPhone, representing the luxuries in their lives, in other words, their dreams.