Marriage-material Style: How China's Young Females Hunt Husbands Through Self-Betterment
Three Girls
Meet Zhang Zetian, aka the Milk Tea Sister, born in 1993 and now a mother, an investor, and the wife of Richard Liu, the founder and CEO of  JD.com.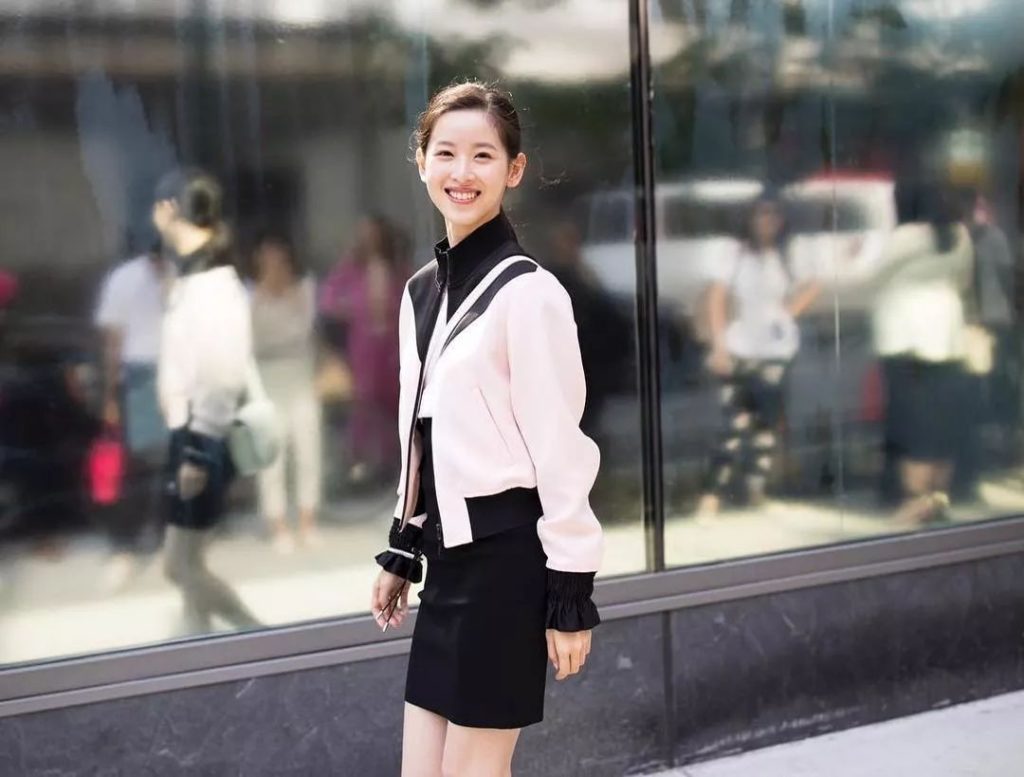 Zetian attending fashion week this year.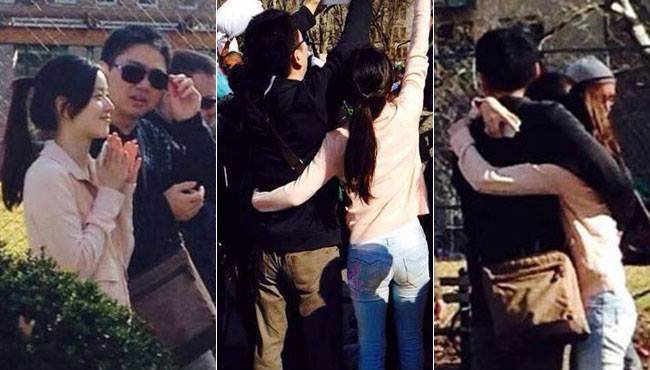 Zetian and Richard caught dating by paparazzi a few years ago.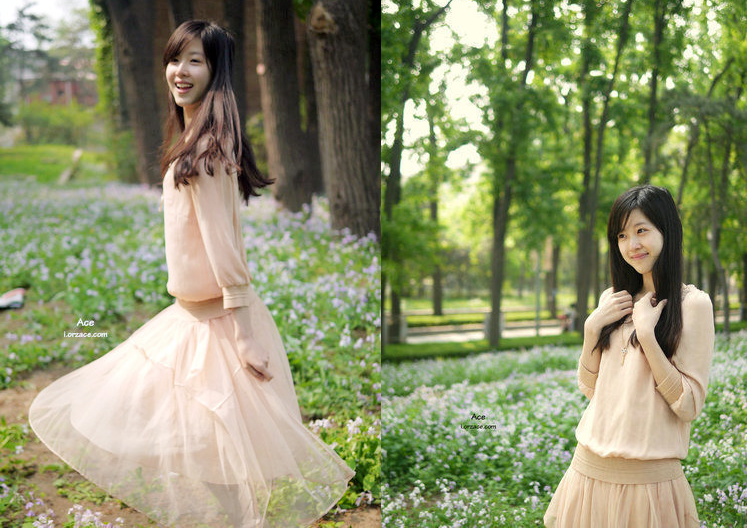 Early photos of Zetian.
Meet Satomi Ishihara (石原さとみ),  the Japanese actress born in 1986 and has been actively featured in a wide range of TV series and movies.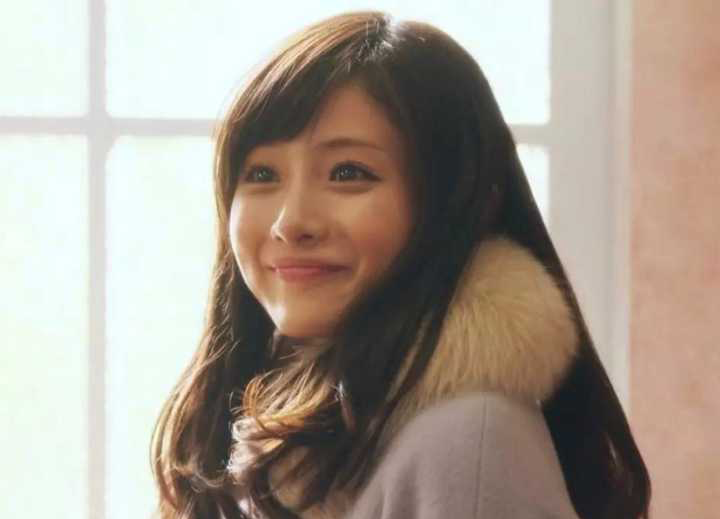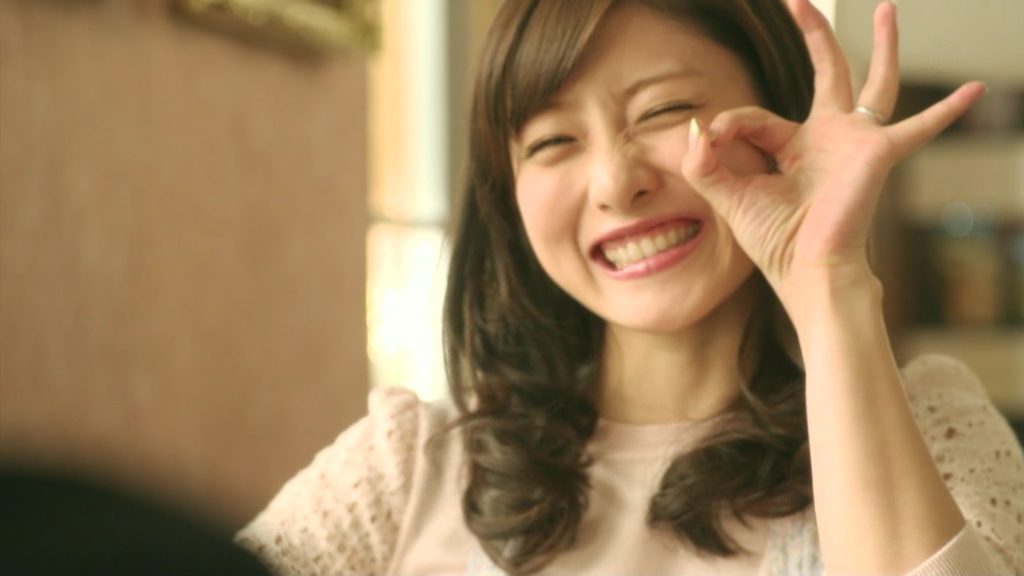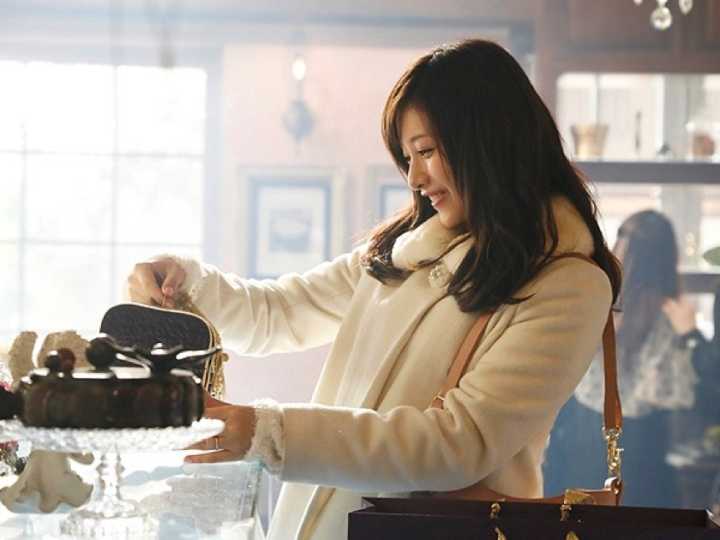 Satomi in Shitsuren Chocolatier, a manga-adopted TV series aired in 2014.
Meet Zhai Xinxin, the ex-wife of tech entrepreneur Su Xiaomao, who jumped from the top of an apartment building in Beijing this year, tragically committed suicide.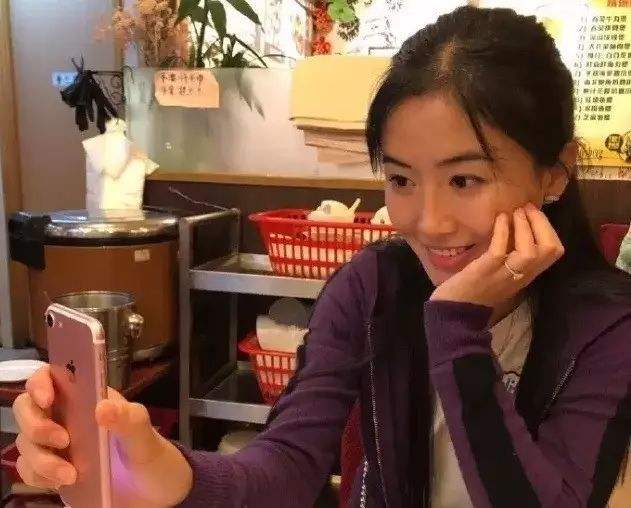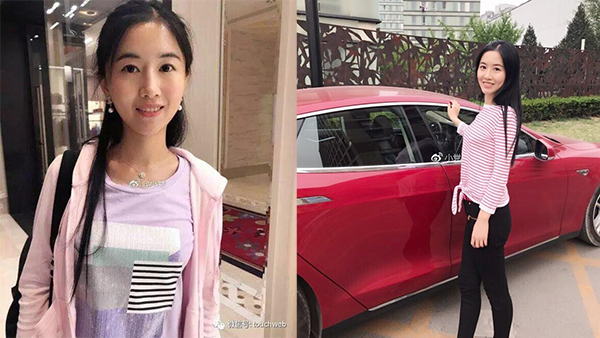 Now, tell us, what do you see?
2.
The Style
For the majority of us including Yan and I, the persons in these photos are entirely different individuals with unique backgrounds and life trajectories. Besides the facts that they are all pretty and relatively young, what else? What's the point of placing them together at the beginning of an article (Elephant Room is not a platform for showcasing pretty young Asian girls, in case you are new...) ? 
Well oh well, Ladies and Gentlemen - 
May we have the honor to introduce you Marriage-material Style 好嫁风,  an emerging Chinese fashion and life style aims to educate, help and incubate young females to become - well guess what - marriage materials.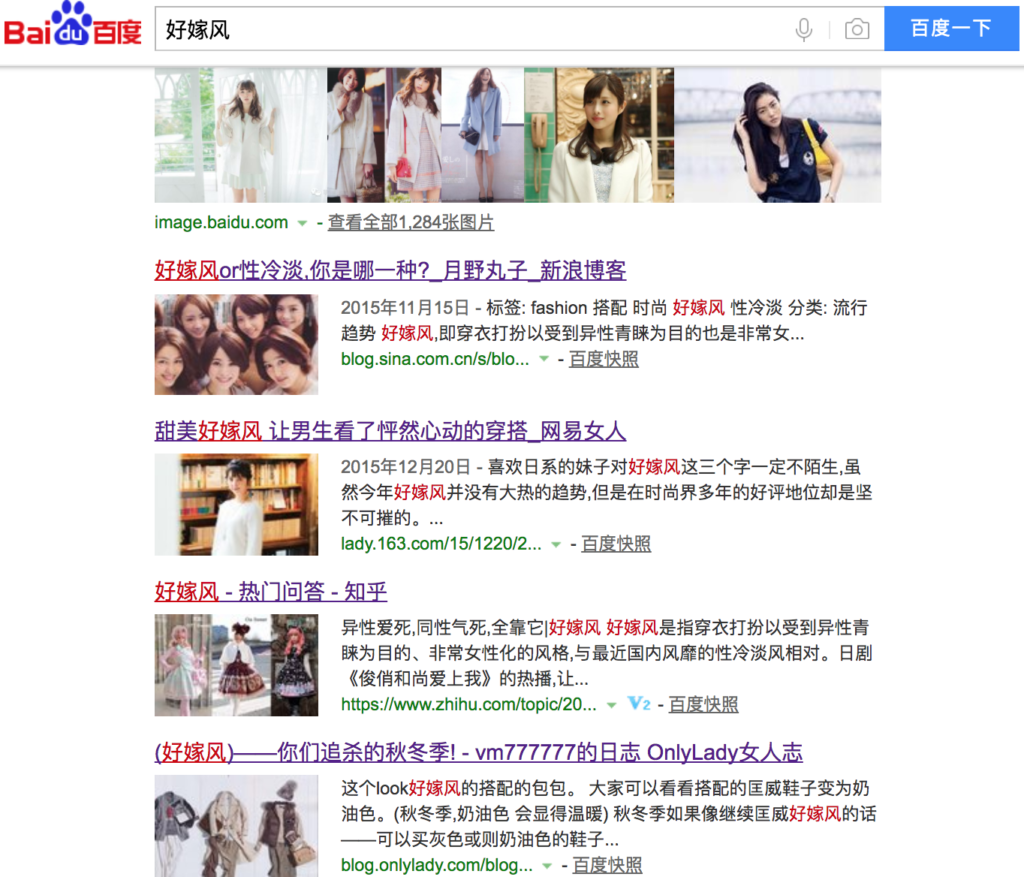 Let Baidu guide your journey into the world of "好嫁风" (Marriage-material Style) ...
A side note on translation first : for those of you know Chinese, you'd realize the concept "好嫁" could actually be interpreted in two ways, meaning either "easily married" or "married well". Since there's no official definition available yet, me and Yan thought over and decided to settle with "marriage material", an equally vague English term (it doesn't even have a Wiki page!) that sort of cover similar meanings though in very different cultural veins.
Now back to the question - what is Marriage-material style exactly, and why are the three above girls, Zetian, Satomi and Xinxin Zhai, considered role models for them?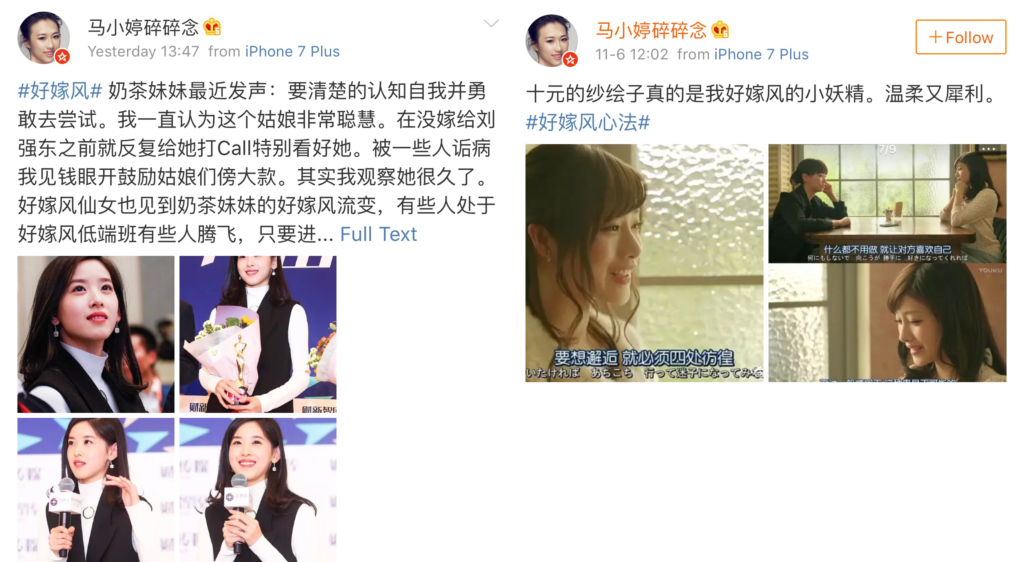 Ma Xiaoting, an online influencer for Marriage-material style praising Zetian(left) and Satomi (right).
Unlike many other Chinese-invented "styles" that are often abstract and confusing (for instance, "欧美风", literally translating to "European and American style", is a keyword dominating China's female apparel market for the past decade. Having purchased a ton of "欧美风" clothes through Taobao, till this day I still have no clue what it means...), Marriage-material style is a lot more practical and simple to understand. In essence, it is all about dressing up and behaving in a particularly "feminine"  manner to lure guys - especially guys with decent wealth - into marriage.
Take a quick tour around the Weibo account of Ma Xiaoting, the self-claimed founder and an active online promoter of Marriage-material style, you'd end up with tons of selfies from Marriage-material believers all with identifiable appearance traits: Long black hair. Pale skin. Big eyes. Pink soft lips. White coat (duffle coat preferred). Fluffy accessories. Pearl Jewelry. Laced dresses and skirts (not mini ones though, never too short!) … such are just some of the fundamental elements to perfect a Marriage-Material look.
And of course,  it is not just about the looks.  According to Ms. Ma and her followers, Marriage-material style is a wholesome lifestyle package that emphasizes as much about the inside as the outside. To marry well, a girl needs to be constantly working hard and self-scrutinizing in order to check all the boxes of those damn too-good-to-be-true adjectives: elegant, cute, innocent, affective, decent, caring, well-mannered, intelligent - the list could go on and on.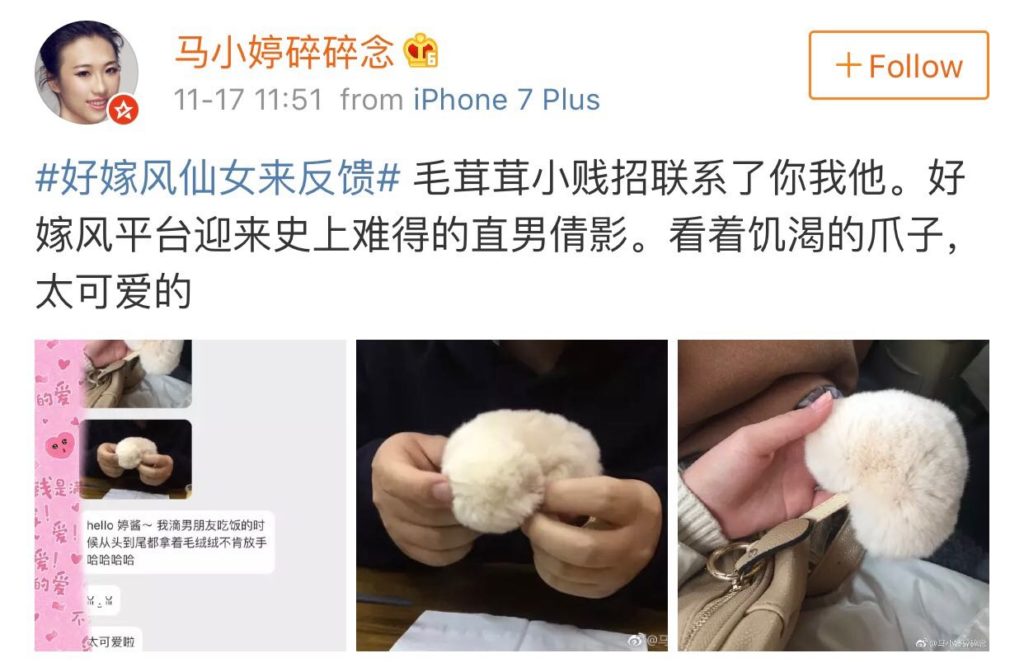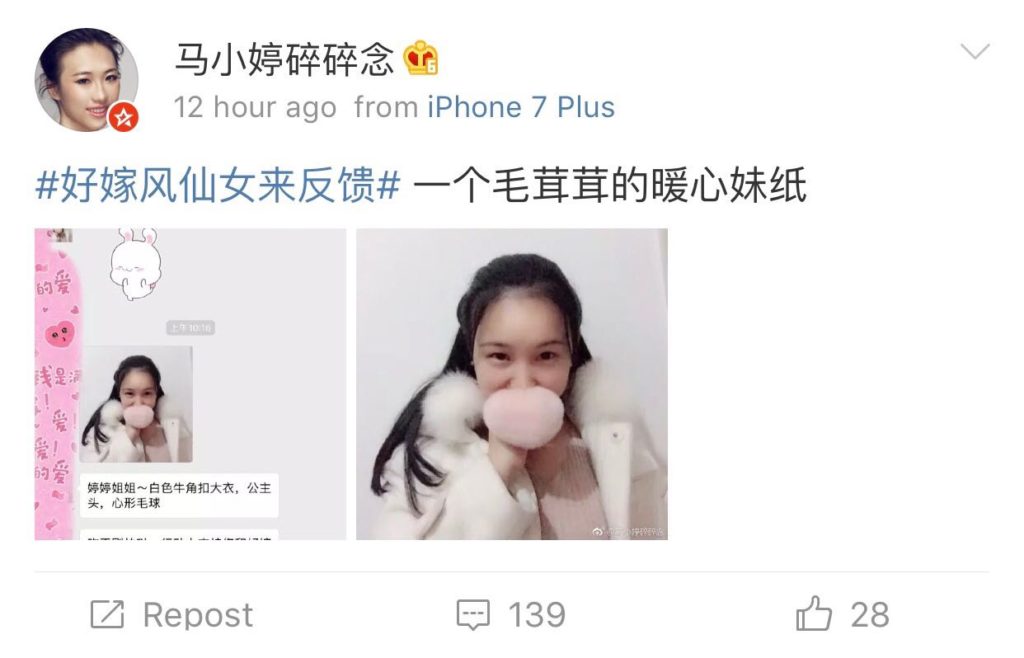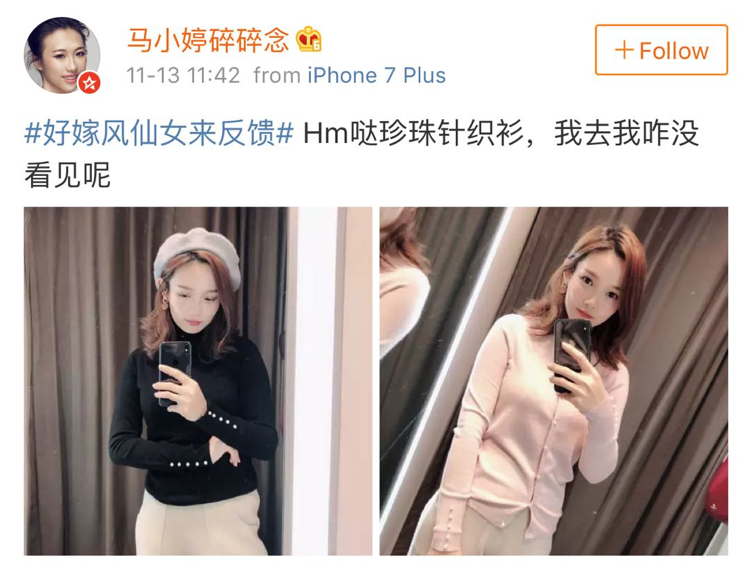 Ma Xiaoting interacts with her fans, aka those in the Marriage-material gang 好嫁党 by encouraging them to share selfies, write feedbacks and to ask questions on their man-hunting journeys.
✧How to become a proper Marriage-material girl, according to Ma Xiaoting: 
"White skin is everything. Marriage-material style is not designed for those with darker skin tones. Just remember, in our country, straight guys only like girls with pale skins."
"Secret weapon: fluffiness. Carry a fluffy keychain or bag accessory with you when you date, even flirt with your guy by swiping that fluffy ball over his face while asking, "isn't this cute?"  -  no straight guy can resist this!"
"Don't worry if your girl friends disapprove your style. Marriage-material style is NOT designed from the females' point of view; it is for pleasing the guys, a particular group of straight guys that would make good husbands for us."
"Girls, make sure you don't spend a penny on the first three dates. Never get out your WeChat wallet, leave your cash with your mom, let the man pay for everything. If he behaved well and paid all, you can treat back a coffee for the forth date."
"For those of you that doesn't like Marriage-material style, I respect you and will not try to brainwash you. All I'd do is to wish you sincerely to NOT ABLE TO MARRY WELL."
3.
The Business
If you are frowning right now thinking Ma's styling tricks are too dumb to your liking, meet Yang Bingyang aka Ayawawa, the "best-selling author", "crossover celebrity" and "relationship expert" (we copied all these titles from her Baidu Baike) who's upgraded Marriage-material from a style in to a serious, successful business.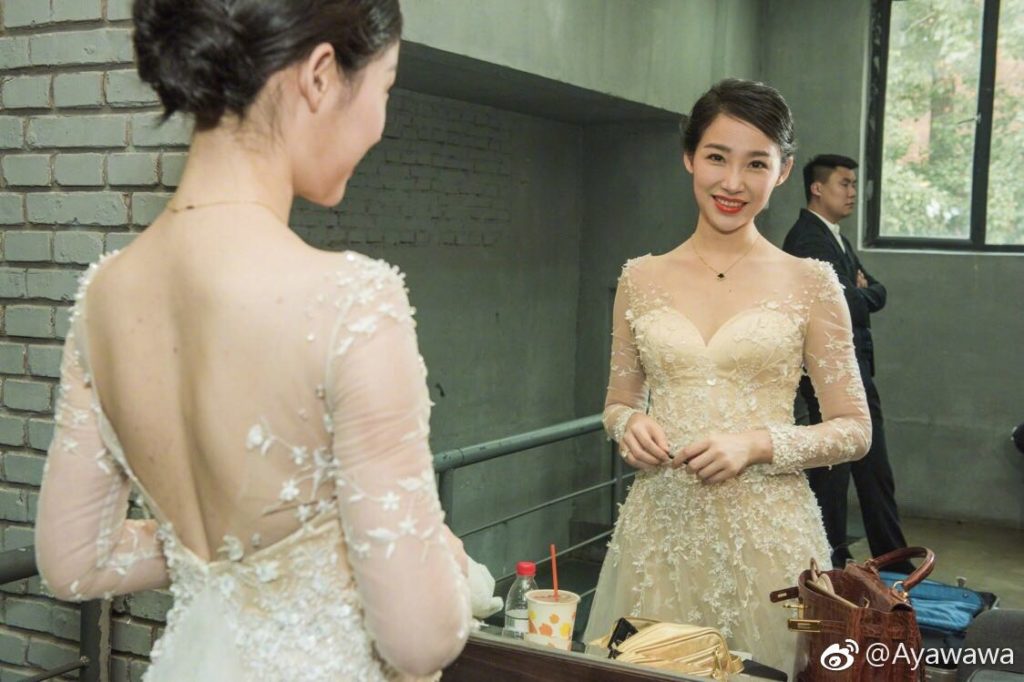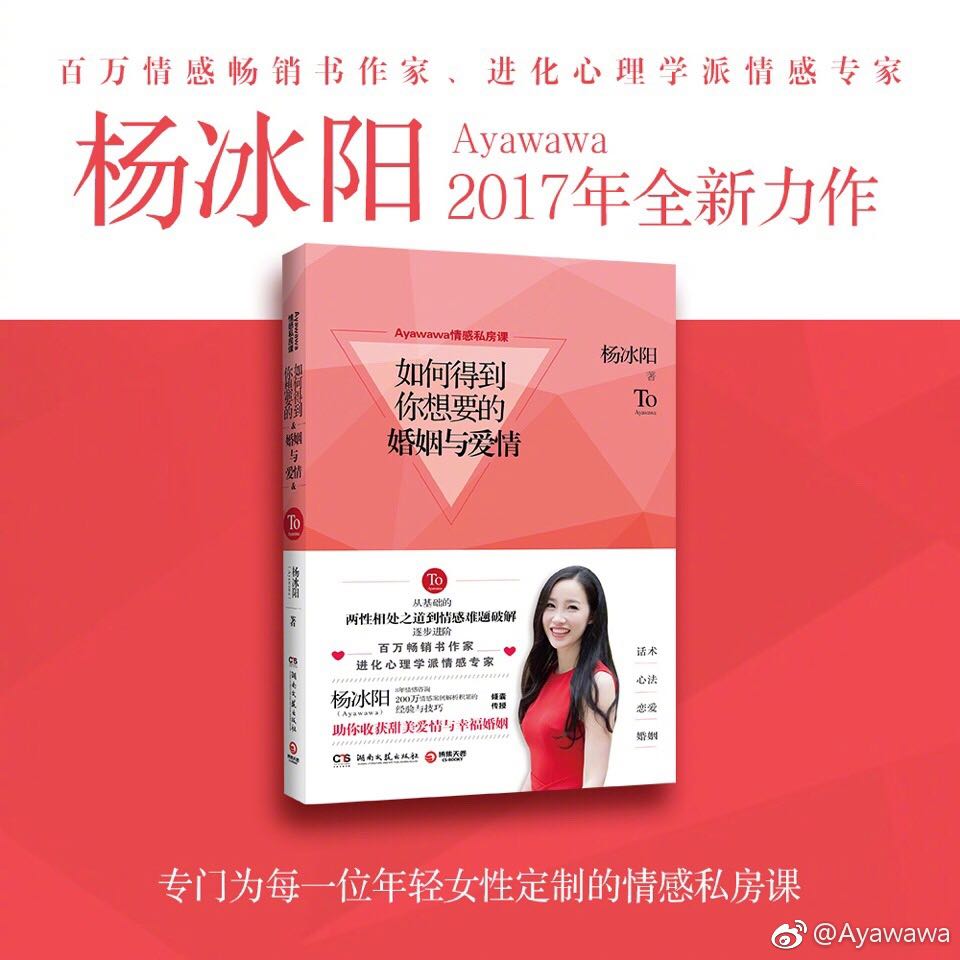 Ayawawa has published a number of books over the past decade on love, relationships and marriage for Chinese female readers.
Being a self-claimed Mensa (an High-IQ society) member and a former journalist, Ayawawa for sure knows a thing or two about public communication, in particular, about how to complicate a single mission (to marry well, or, more frankly, just to marry a straight guy with decent wealth) into a system with seemingly-logical judgements that bring both profit and attention. For example:
In order to objectify women into something measurable and comparable, Ayawawa invented two indicators, "M.V" standing for "Mate Value", and "P.U" for "Paternity Uncertainty" as the grounding stone for her theories. To find a good husband and nail a happy marriage, a girl needs to make sure she's high in M.V and low in P.U; M.V, in this case, is measured by eight indicators including "age, looks, height, bra cup size, weight, academic degrees, personality and family background".  What about P.U?  Well, it basically means how much a girl looks like she might have an affair. "Don't wear revealing clothes," Ayawawa advices her readers , "don't post bikini pictures with other guys, don't hug boys and don't linger in clubs.  Be polite, be gentle, be girly, never rough."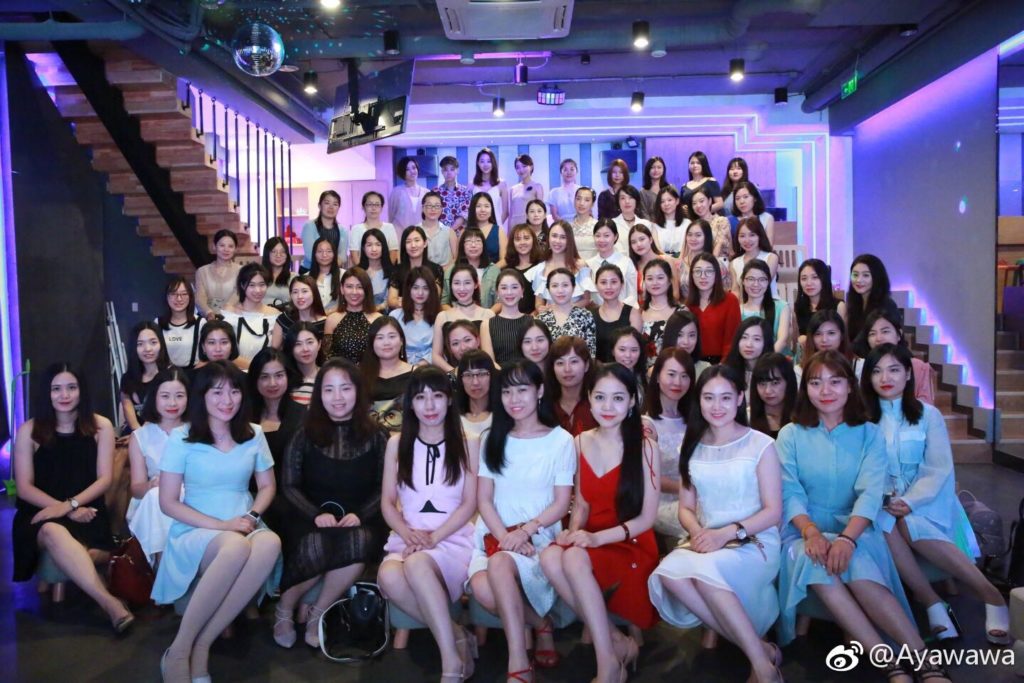 "Check out the high quality of my fans!", Ayawawa proudly captioned this photo.
Backing her theories with evolutionary psychology and other self-claimed scientific evidences, Ayawawa has successfully branded herself as not only a trustworthy mentor, but also a polished, well-educated urban elite woman that has won on both the family and the business fronts of life.  To date, Ayawawa has accumulated almost 3 million followers on Weibo, a fast-selling Taobao shop, and even her own make-up brand.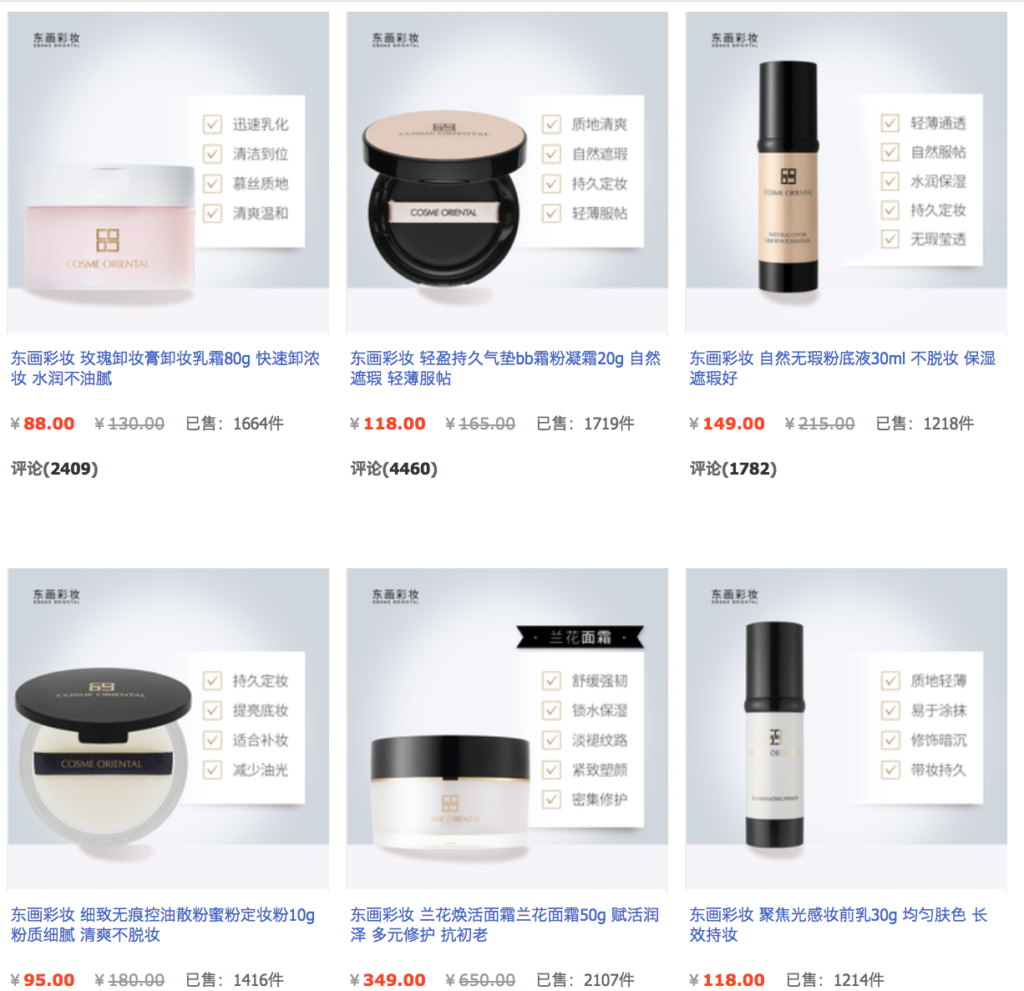 Ayawawa now owns a make-up and skincare line named Donghua, targeting the wallets of her young female fans.
4.
All the Girls
While immersing ourselves in the wonderland of Marriage-material style, Yan and I noticed an interesting trend: Ma Xiaoting and Ayawawa, although different in communication strategies, are both extremely passionate about evaluating their followers' appearances and openly judging them. The fans love such an activity too; many of them would post selfies in the comments section,  begging for a grading from others and asking for advices on self-betterment.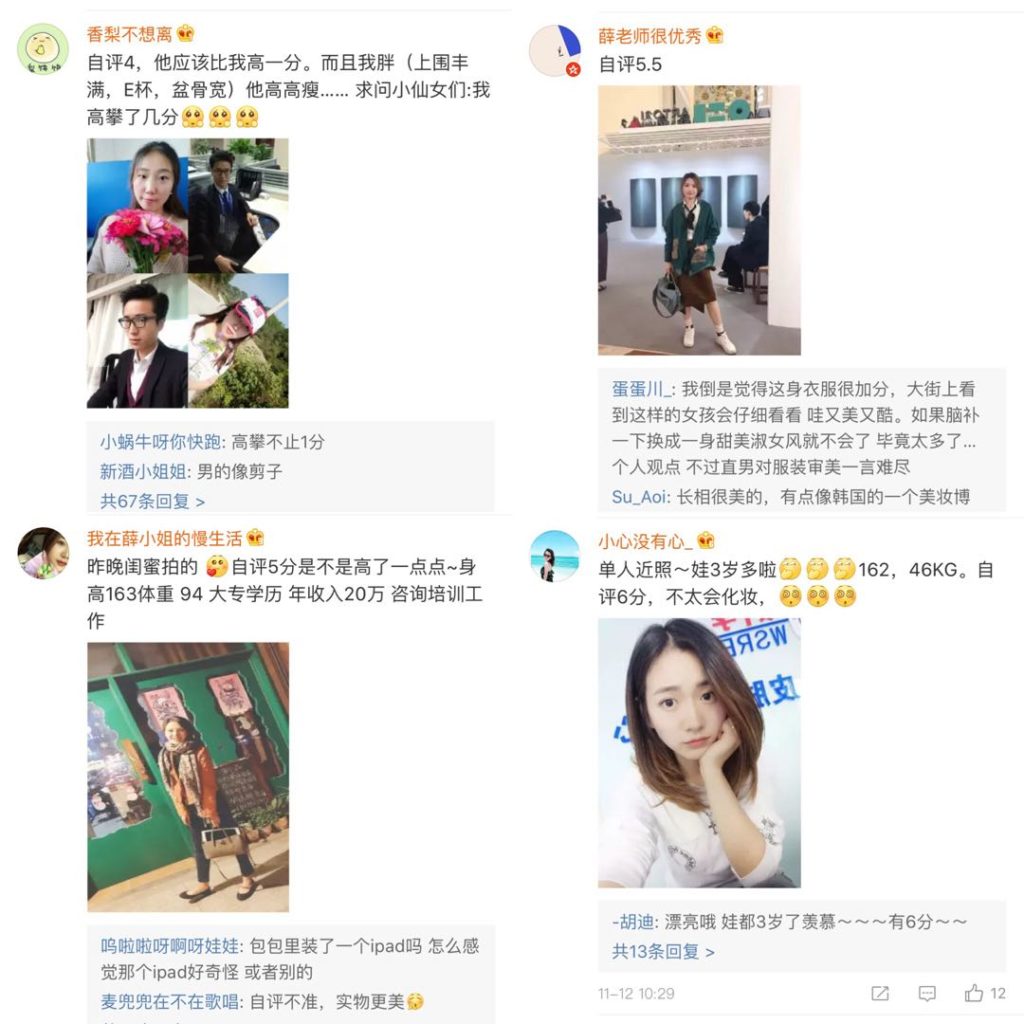 Ayawawa's fans posting selfies and asking for grades.
Flickering through these photos and comments one by one, we began to become ever so curious yet so confused about one question: who are these girls exactly and why on earth would Marriage-material style appeal to them, despite the idea's obvious patriarchal roots and sexism?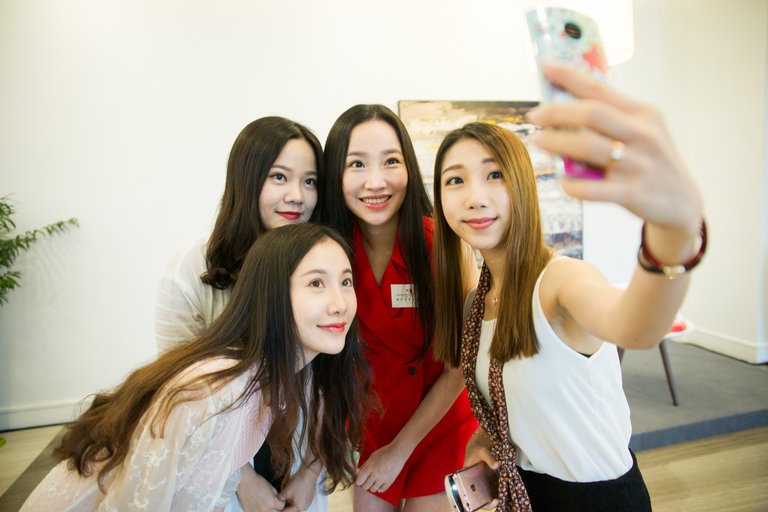 Ayawawa and her fans.
The more we thought about Marriage-material style, the more we realized its prominence is a complicated social issue that needs to be situated in a multi-layered context. Urbanization. Consumerism. Gender relations. Family and social pressure. Traditional Chinese understanding of marriage - all of these big  themes, which often sound so far and irrelevant to our trivial lives, have shaped or even validated the existence of something peculiar as Marriage-material style in today's China. 
As much as we find the trend alienated or even twisted (fluffy keychain? pink shirt? gosh...), being two young Chinese females ourselves, we want to fully recognize the value of Marriage-material style in representing something bigger, something useful to unclench stimulating conversations across other realms from feminism, social justice to personal development in China. After all, if we could understand parents selling their children on the marriage market with a piece of paper, we could, at least as we've tried, to understand how the great pressure of marriage have driven Chinese girls into extremely pragmatic ways of finding life partners. 
P.S. While researching for this article, we came across this recent NYT piece on Chinese males attending dating schools learning, well, how to date girls. Why can't someone just throw a party matching these boys with our Marriage-material girls together? That would benefit both sides and create so many happy endings! (Or disastrous mismatches, who knows...)