Why China's Beauty Consumerism is Going Too Far
In the past two years, Yan and I have been noticing and discussing a lot about a phenomenon: China's young female consumers have been buying a lot more beauty products (remember our previous stories on lipstick and weed clan?). 
Today, China stands as the largest beauty market in the world with over 21 billion RMB annual revenue; although domestic economy has cooled in recent years, year-on-year growth for skincare and make-up products still reached 5 percent and 12 percent respectively as in 2016. Such cheering growth has a dark side though: while many are busy buying more and showing off their purchasing powers, others who lack the financial support have fallen into the trap of overspending, chasing after beauty consumerism at a price too high to pay.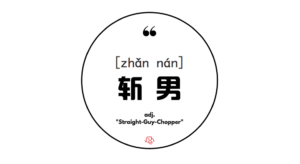 "If a new lipstick couldn't solve your problem, just buy another one."
In June 2016, scandal of Naked Loan broke rage on the Chinese Internet. The scheme targeted mainly college girls, coercing them to provide naked selfies as collateral for a higher-than-usual loan rate. Later in December, more than 100 of these selfies were leaked online along with the girls' contact details and addresses.
Leaked photos of girls who failed to repay their debt.
Naked Loan was not an isolated incidence.  As news (in Chinese) has revealed, in recent years, a large number of young Chinese girls have fallen into the trap of illegal P2P-lending, borrowing to keep up a lifestyle that eventually sucked dry their credits and privacy.
What they are borrowing money for? Beauty products. More specifically, expensive make-up and skincare items from premium international brands.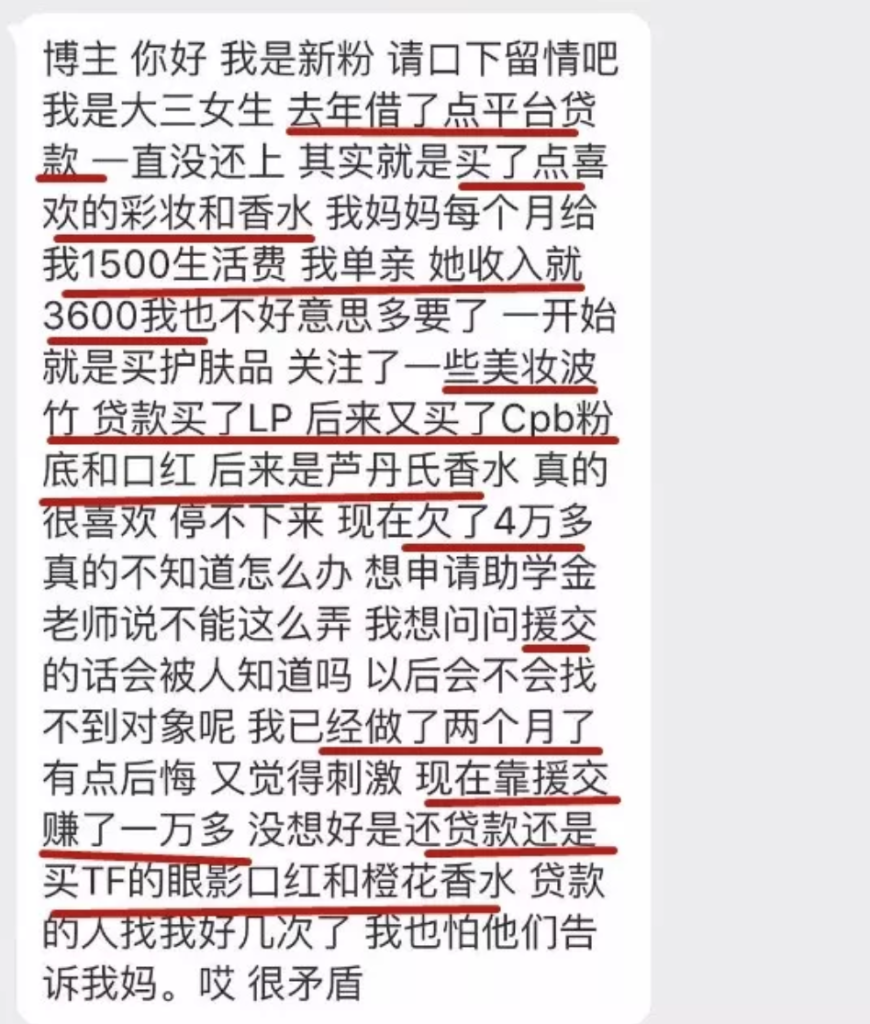 A beauty blogger showing a private message from a follower, "I am a third-year college girl who now owe over 40,000 RMB of debt. After following some bloggers online, I began to purchase beauty products and now keep buying more. I've managed to earn back 10,000 RMB from working as a call-girl, should I use the money to repay the debt? I am still planing to buy Tom Ford eyeshadow and Jo Malone perfumes though."
The behavior of these girls seems crazy and inexplicable at first thought, yet when I opened my own bathroom drawer and saw how many lipsticks, eyeshadows, lotions and serums are lying there, I couldn't stop to ask myself: haven't I been one of the hot-headed consumers who tirelessly chases beauty trends? When did I fell into this trap? And how did I get out?
We've bought a lot and exhausted ourselves out by this endless buying game. We might never be able to break through capitalism and go all minimalist, but we could at least take some time to reflect upon our own consumerist journey, to explore the psychology and marketing tricks that have made Chinese women to keep on spending money regardless consequences, big or small.
-
The Trick of Self-investment
The idea of beauty consumerism as self-investment first hit my life about a year ago, when a close friend who works as a beauty blogger commented on the fine lines under my eyes: "darling, you are already 24, time to self-invest and start using anti-aging products!"
I was confused: being 24, I thought it was way too early to step into the world of "anti-aging" – aren't those tiny little lines just the result of sleep deprivation and dehydration anyway? What is it to worry?
When I mentioned this conversation to Yan and other similar-age girlfriends, they immediately resonated and said they've been trapped by the same confusion: although we have yet felt anxious about aging, everyone else on the Chinese Internet seems to be feeling otherwise, moaning over symptoms of early-aging 初老 even in their early 20s. 

"The post-90s are now in early-aging!" – a title that's been popping up frequently online.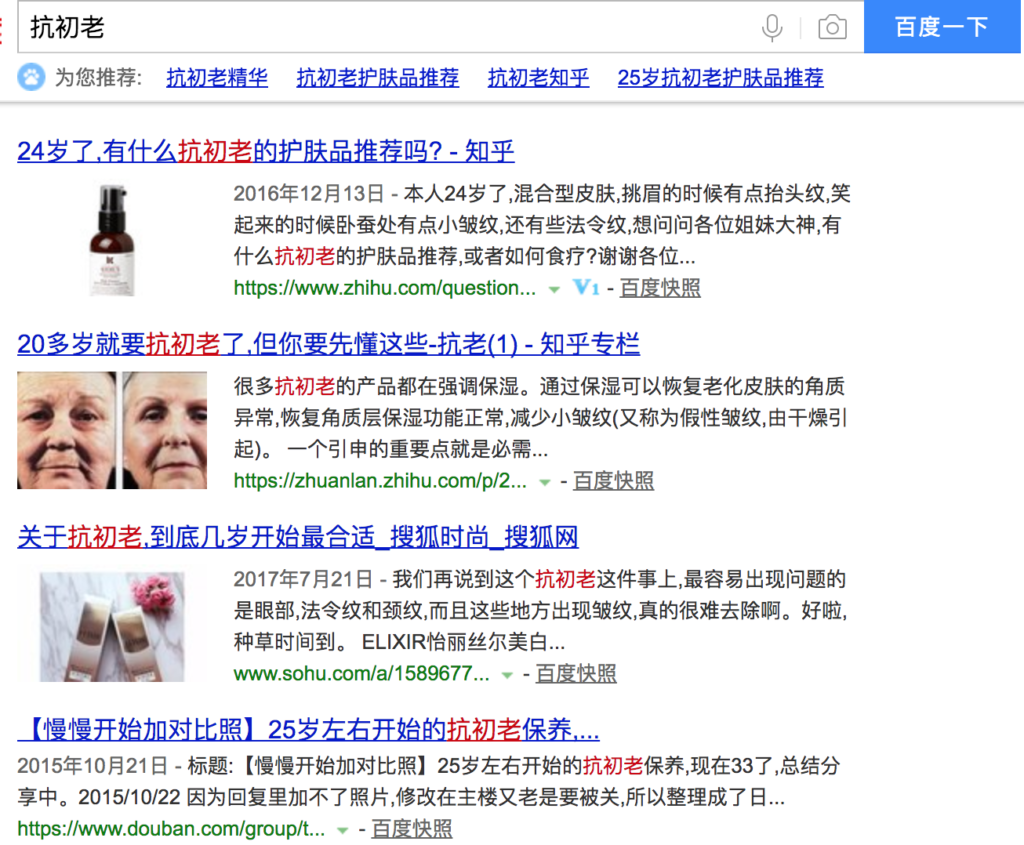 The many skincare-related results after searching "anti-early aging" on Baidu.
Jumping on the bandwagon of public anxiety, beauty companies began to shift their marketing strategies in China, advertising their most expensive, high-end skincare products to younger girls who are still in, or just step out of college. Long gone the days where La Mer face cream and La Prairie serum stay on your mother's desk; under the notion of anti-early aging 抗初老, Chinese girls are fiercely splurging on miracle-claiming bottles and jars, upgrading their beauty game for a younger-looking future.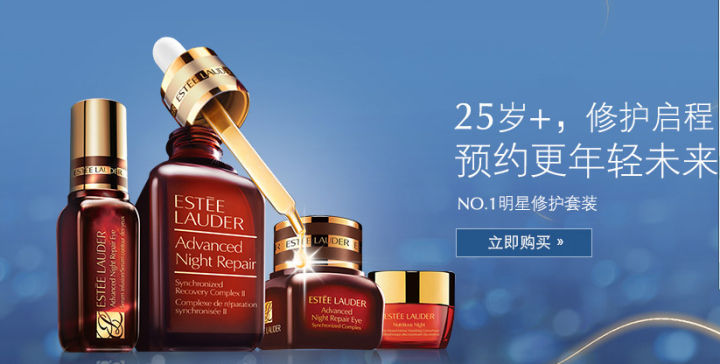 Estee Lauder's Advanced Night Repair, an anti-aging serum that appeals to the mature market in the West, is now targeting those who just turned 25 in China with slogan "pre-ordering a younger future."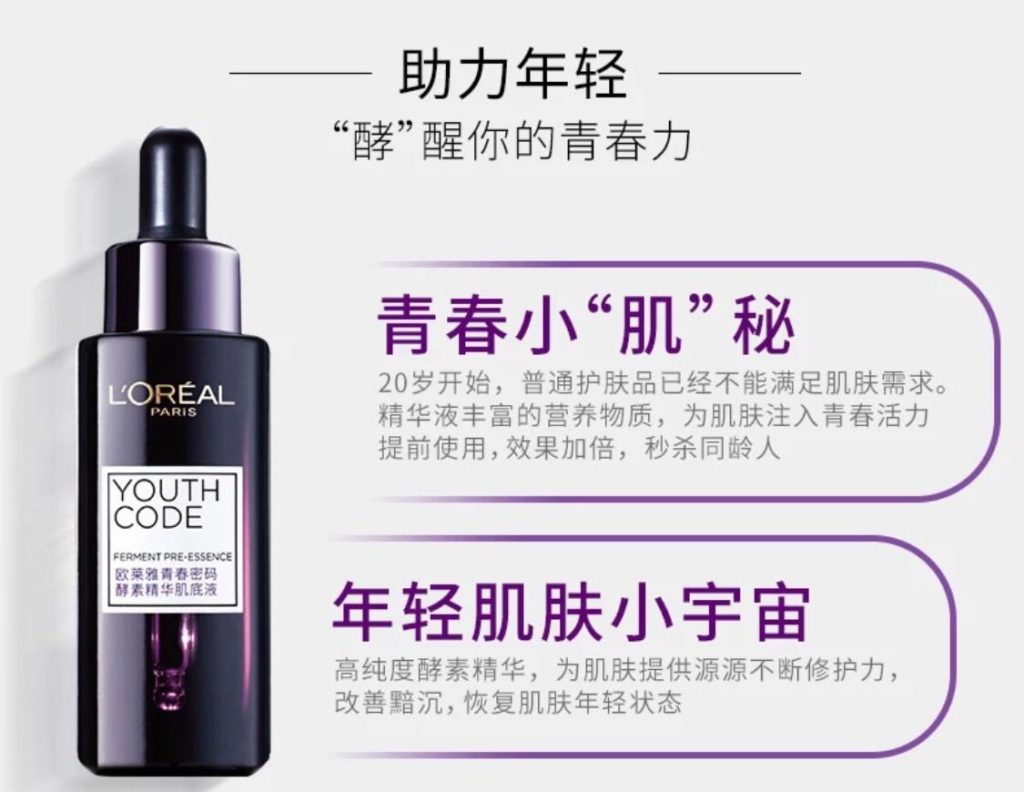 "As soon as you turn 20, normal skincare products are just not enough!"- from L'OREAL's Youth Code serum .
As if tricking young females into fear of aging is not enough, there's another term to hook them into the world of China's booming beauty capitalism: rich-lady class 贵妇级. From "rich-lady moisturizer", "rich-lady foundation" to even "rich-lady cotton pads", every category of beauty products has now developed its own hierarchy, with only the most luxurious ones capable of earning the shinny rich-lady title.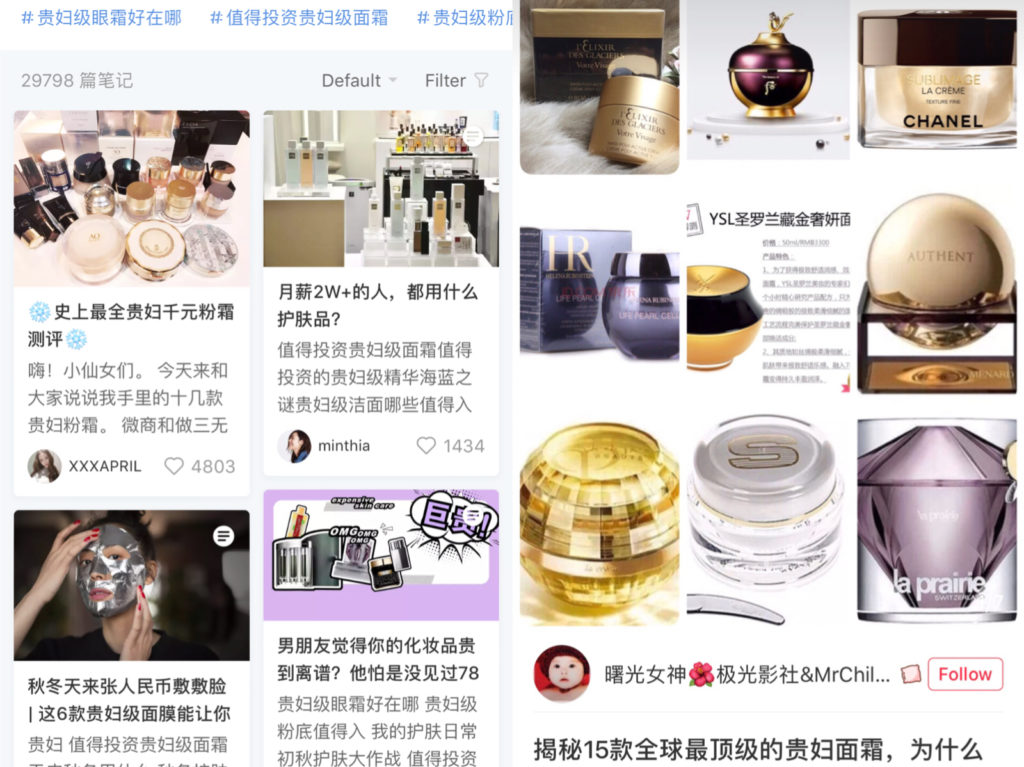 Endless posts discussing rich-lady beauty products on RED, a social/e-commerce app dedicated to beauty and lifestyle.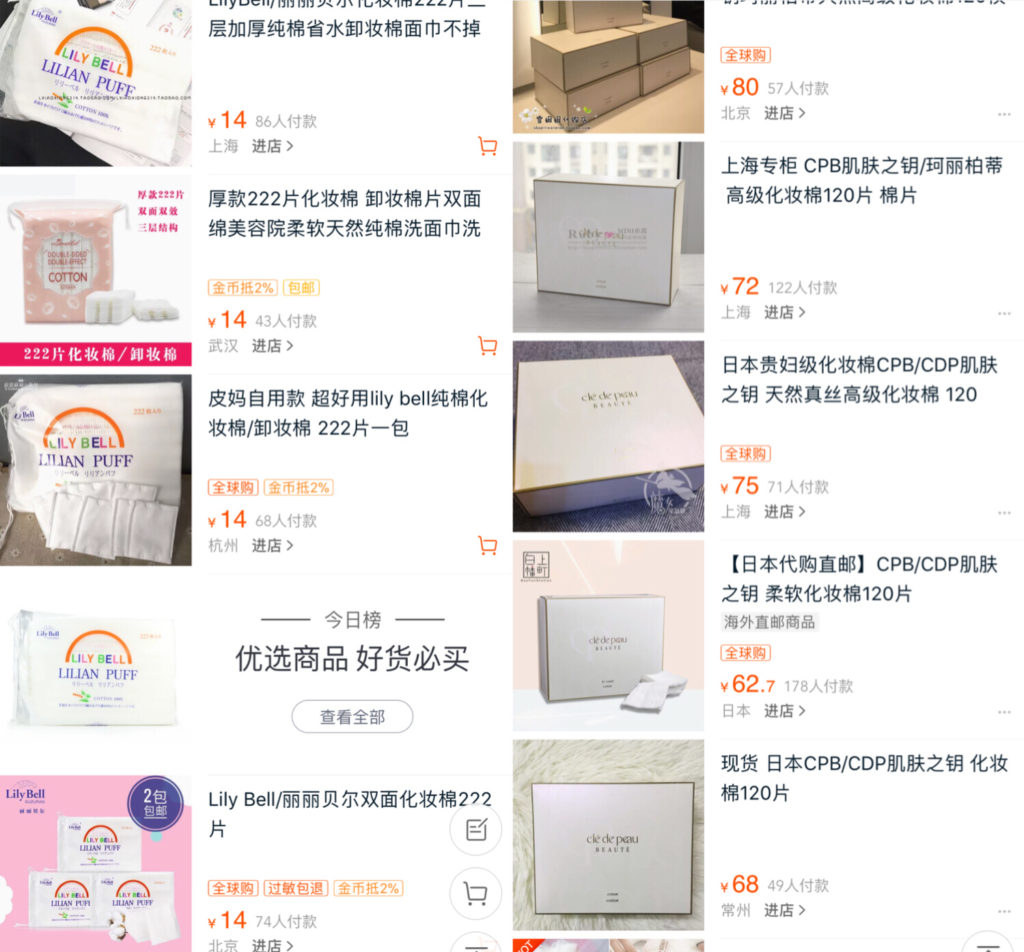 Left: "normal" cotton pads for 14 RMB. Right: rich-lady cotton pads from Japanese skincare brand CPB, priced for around 70 RMB  for 120 pieces.
-
The Power of Influencers
While skincare brands play the card of self-investment, make-up products flourished in China thanks to the local consumers' awakening desire for individual expression and aesthetic betterment. 
The key drivers here? Beauty influencers, aka the young, rich, consumer-turned-gurus who are not only passionate about sharing their experiences, but are eager to monetize through it.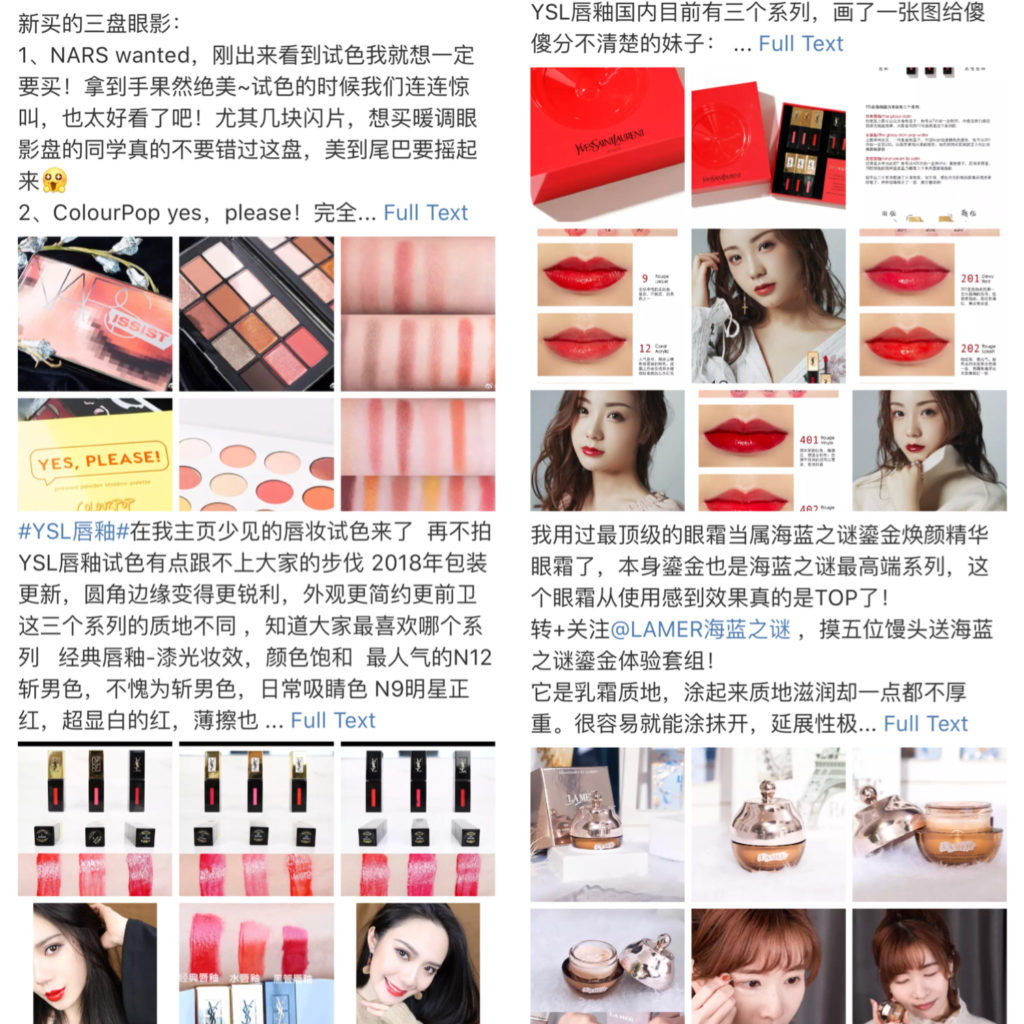 Beauty gurus on Weibo. 
To show you the power of China's beauty influencers, we want to share a personal story.
July. Beijing Capital Airport Terminal 3. Yan rushed to the duty-free shop as soon as we passed security. Following along, I saw her searching the Lancôme counter for something. "What was it?" I asked, "It's this lipstick", Yan showed me a screenshot on her phone, "the color 270 is sold out everywhere according to the bloggers I follow on Weibo!"
Influencers raving about the lipstick.
For the next five days, Yan turned into a fierce hunter looking for Lancôme #270 in every single shopping mall in Taiwan. As it turned out, that particular color was indeed sold out everywhere; "I've been asked by mainland customers at least 3 times about this shade," a lovely lady at the Taiwanese counter says, "How did it become so popular?"
By the time we finally found the lipstick at Taipei airport's duty-free counter, we couldn't help to giggle and high-five. We each bought one without even trying the color on face - who cares how it looks like anyway? This is the holy grail #270 that's being raved so much and sold out everywhere according to people we trust online!
But that joy didn't last long. When I arrived home and took out the lipstick from its packaging, I immediately realized I already owned two lipsticks in almost identical color. Yan wasn't feeling too good either, "the color doesn't suit me at all, damn it!" She texted me back as soon as I reported my own unfortunate news.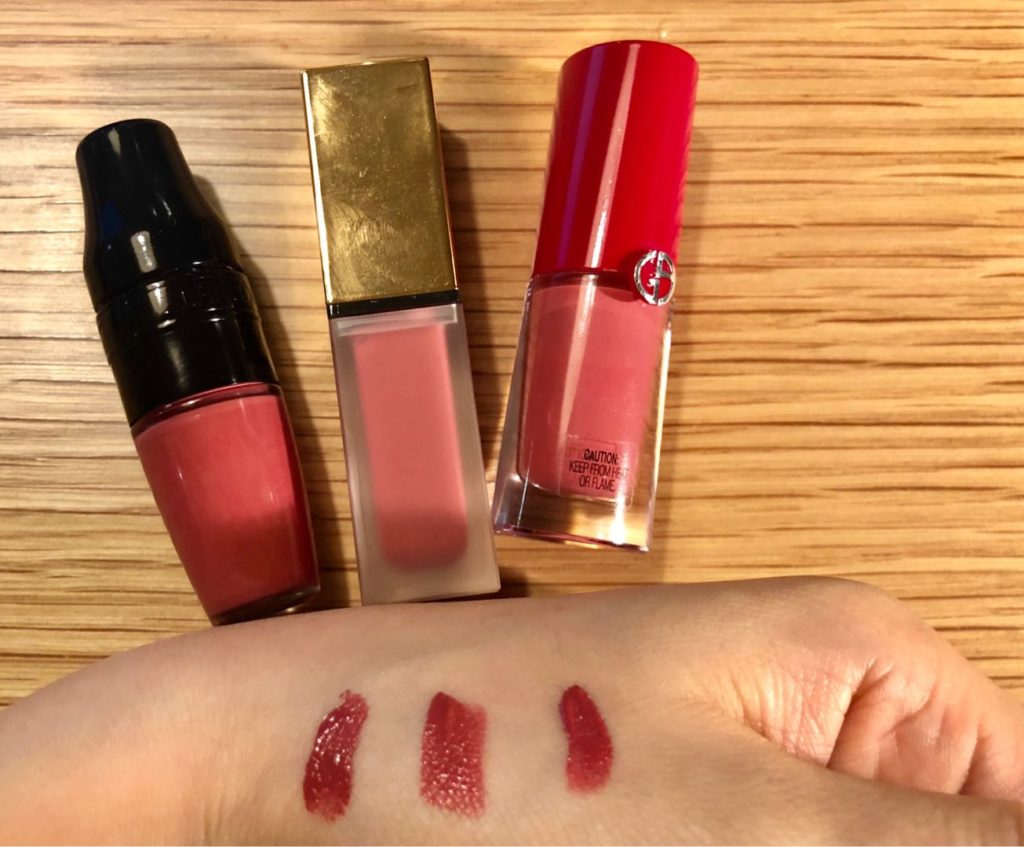 Feeling ashamed...
Looking back to our stupid lipstick-chasing journey now, we couldn't stop to be suspicious about the lipstick's incredibility positive reviews: are those paid advertisement, or genuine reviews from users? No one could tell.
Globally, beauty has probably been the industry that invested the most heavily on social media marketing. Western YouTubers and bloggers are frequently engaged with sponsorships and ads too, nonetheless with a tighter regulation (for instance America's FTC Act, a federal law that "governs the publication of commercial messages and prohibits the utilization of unfair or deceptive acts and practices in the market") and stricter checkup from fans, paid ads are forced to be kept at least to a reasonable level. In China however, things have slipped out of control: both Yan and I could recall many times of which we saw at least five bloggers raving about the exact same product on Weibo, yet no one dared to clarify if it was an ad or not.
With tolerance from both the platform (Weibo, unlike Instagram or youtube, doesn't require the hashtag #ad whatsoever) and the followers (many Chinese fans are actually  proud for the influencers if they'd managed to be paid by brands - Bravo! What an achievement!) China's beauty influencers have become the leading power of extreme show-off, madly championing a culture of all-in (buying a lipstick or eyeshadow in every shade available) and stocking-up (buying the same product before finishing the current one). Who cares if the luxurious lifestyle they displayed might mislead young followers? At the end of the day, being materialistic is the least thing that today's Chinese netizens might be apologetic about.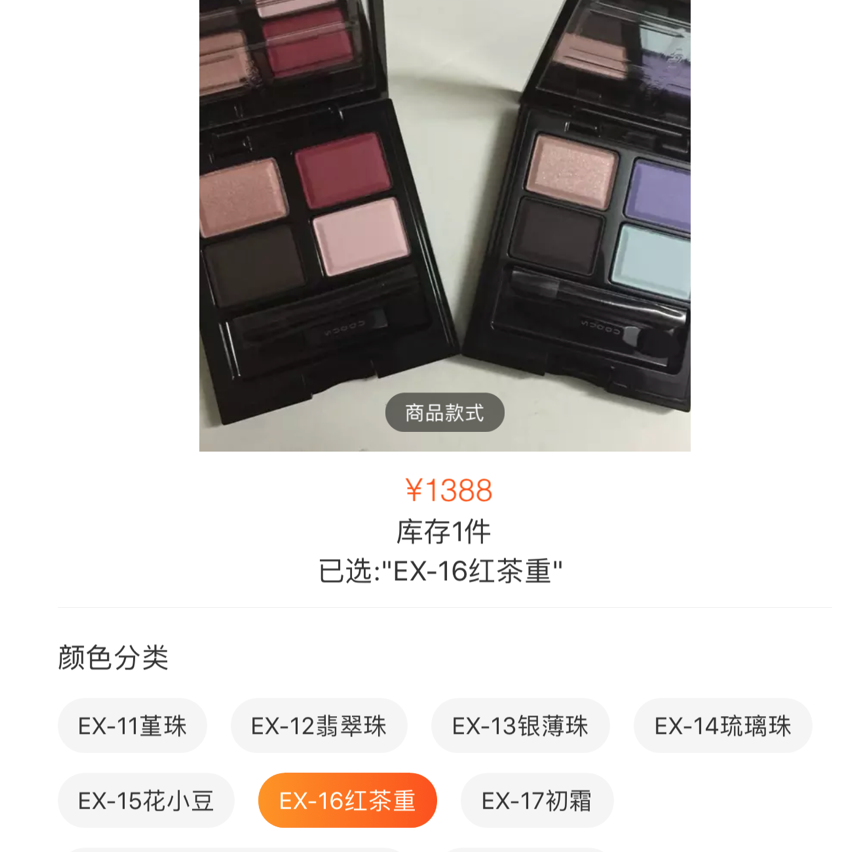 Thanks to raves from influencers, this particular eyeshadow quad from Japanese brand Suqqu is now marked up to 1388 RMB on Taobao from its original 400 RMB price tag.
-
The Endless Buying Options
Having fed yourself with enough ads and influencer reviews, you are now officially ready for the final step in completion of the beauty-consumerism loop: actually buying the product.
Here's an interesting fact: although we are seeing more international beauty brands launching in China, brick-and-mortar stores are not where Chinese consumers have been buying most of their products from thanks to import tariffs and tax. In fact, research shows that domestic purchases have actually been declining since 2014 while overall Chinese spending on beauty products rise.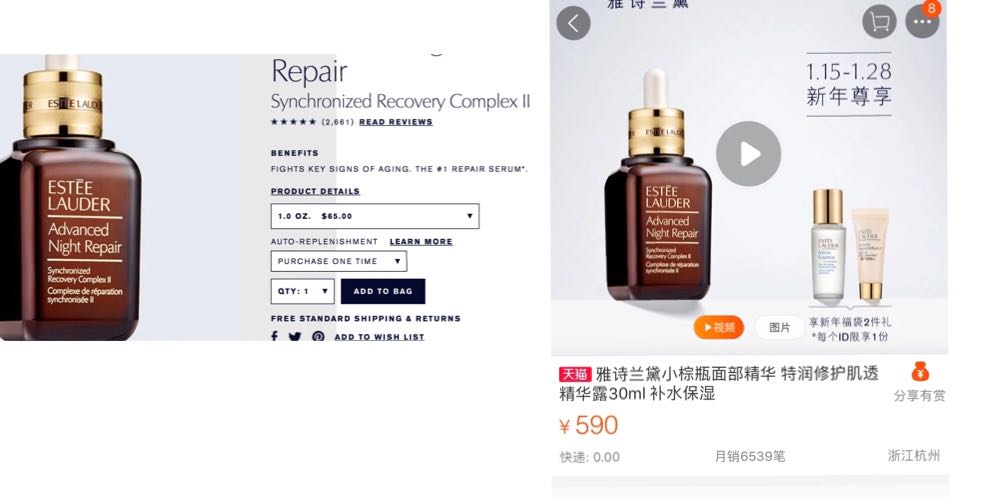 A 1.0 oz Estee Lauder Advanced Night Repair serum costs $65 in the U.S (left) and almost $92 (590 RMB) in China (T-mall price is the same as offline retail).
So where do Chinese consumers get their beauty products from?
For the lazy but internet-savvy ones, they simply go to Taobao, where third-party shops source from various channels with cheaper prices. For those who worry about the authenticity of Taobao products,  they buy directly from international sites that now offer both China shipping and Alipay. Finally, you always have the option to hire a buying-agent or just go crazy in international airports' duty-free shops, hauling things into your cart like it's the last day of life.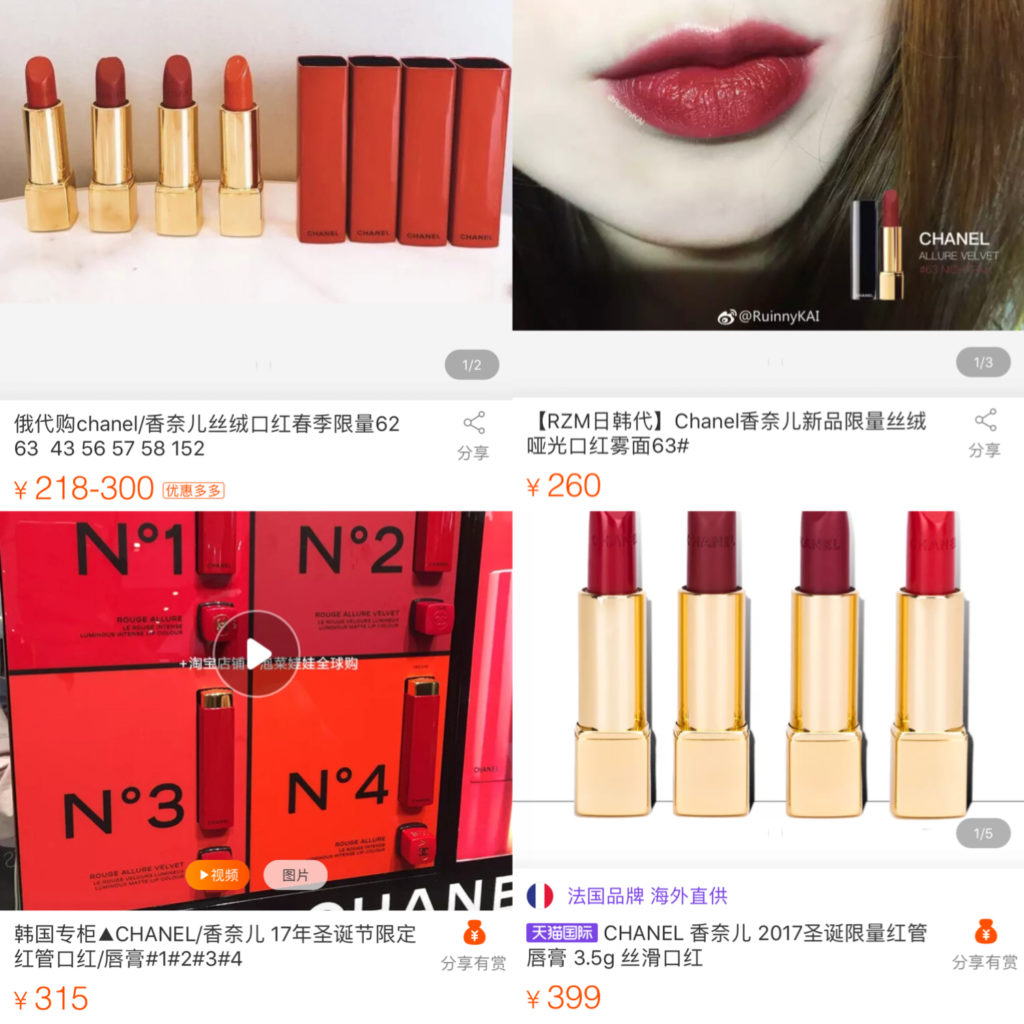 The same Chanel Rouge Allure lipstick on Taobao with different prices, sold from shops in Russia, Japan, Korea and France.

Selfridges is one of the many online stores that now offer China shipping and Alipay.
As smart-ass shoppers, we all know (or we think we know) the promise of a bargain is the ultimate psychological tactic that keeps us buying more. In the case of beauty products, the asymmetrical pricing between local and oversea markets has further stimulated the appetite of Chinese consumers, making us want quick, want better, and want more.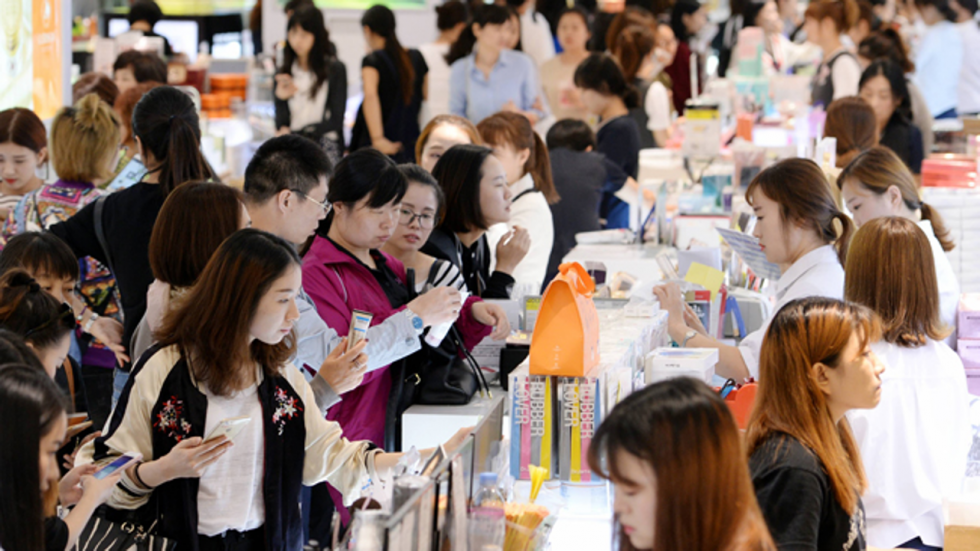 According to report, cosmetics accounted for 20% of the purchases that Chinese travelers made in Korea last year, and 7% of the items they bought in Japan.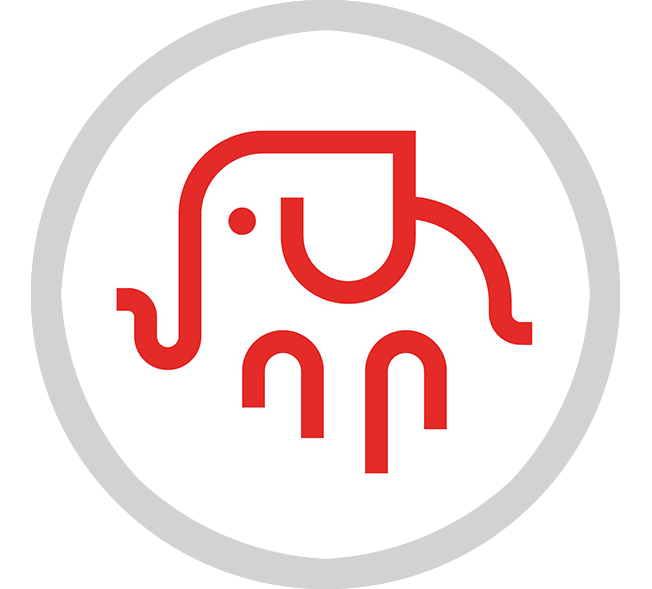 Here's a confession - it took us rather long (almost two weeks!) to finish this article.
Our intention for writing on this topic was simple: as young, female consumers ourselves, we've personally bought so many unnecessary beauty products that we now want to stop and think about why. So we did, and soon realized the thinking about why part is much more difficult than we expected. We feared we might be missing points, over-generalizing nuances and overreacting towards common behaviors - capitalism and consumerism are virtually the life we live nowadays, so is there even a point to think about them in such serious manner?
We thought more, and decided there is. Consumerism is such an important topic, the Chinese are consuming so much, yet few till this day has spoken directly from the narrative of Chinese consumers on both domestic and international media. We want to initiate this conversation about Chinese consumerism by starting with beauty, and hopefully going further and deeper in the future.
Again, thanks for your patience and support for our works at Elephant Room. For any feedbacks, feel free to leave a comment or email us at contact@elephant-room.com.
See you soon,
xxxx,
Yan & Biyi