Amazing China: a Propaganda Success or Failure?
Last Friday, Yan and I went on a movie date. Guess what we watched?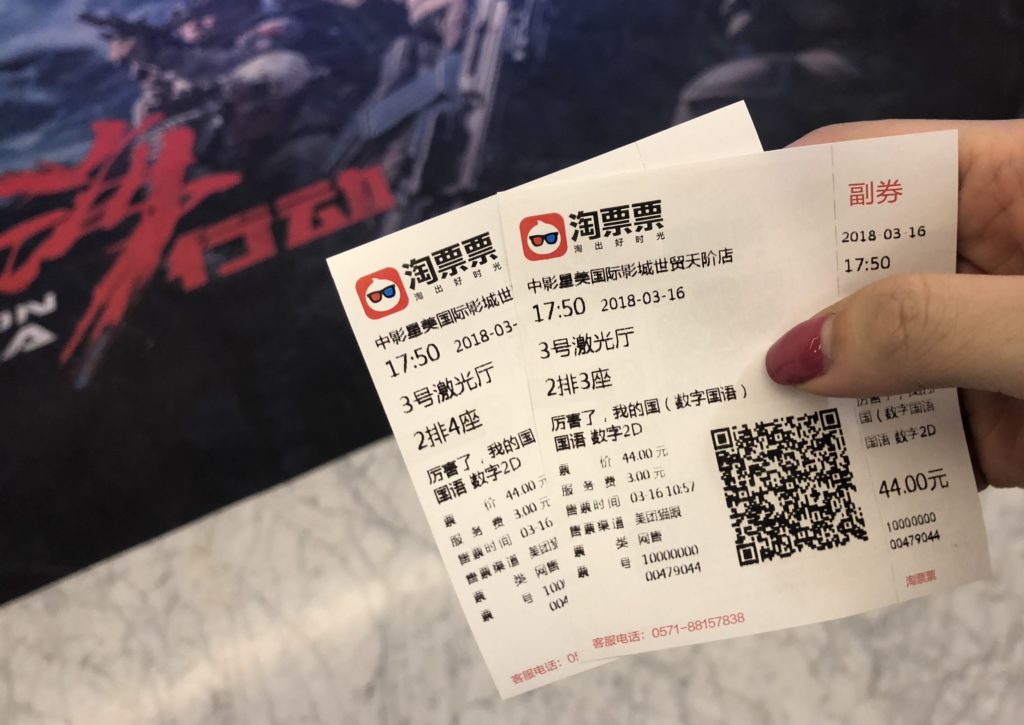 Yep, Amazing China (厉害了我的国), a 90-minute documentary that is currently showing nationwide.
Judging purely by the title and introduction, a documentary that "records China's achievements since the 18th National Congress Communist Party of China in 2012" was definitely not to our cinematic taste. In fact, we thought it would be one of those poorly-produced, domestic box-office disasters.
But we were wrong.
On March 3, news about the film's stunning achievement were already everywhere. Amazing China, according to an official report, had raked in 41 million yuan (US$6.5 million) in box office within 24 hours. And did we mention the film was released exactly a day before the opening of National People's Congress? What a terrific coincidence!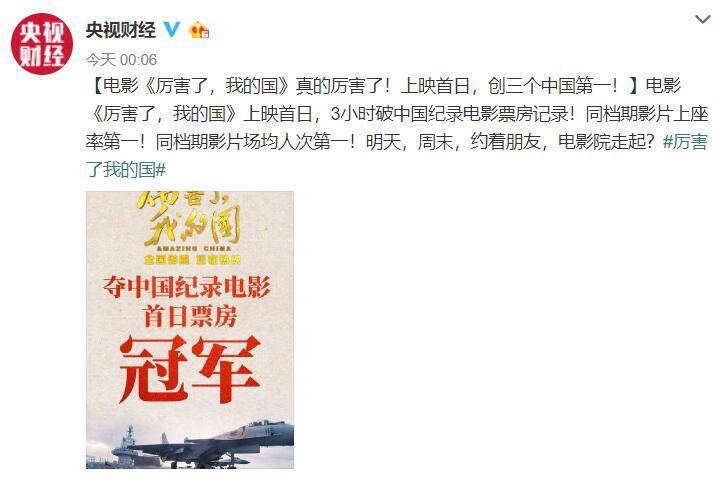 And the good news just kept coming. By March 16, the film was reported to have hit 300 million yuan in box office takings, making it the highest earning documentary of all time in China. On Maoyan, a major online movie ticketing platform owned by Meituan-Dianping, Amazing China has so far scored a 9.6 out of 10 from viewers – higher than any other film currently showing in Chinese cinemas.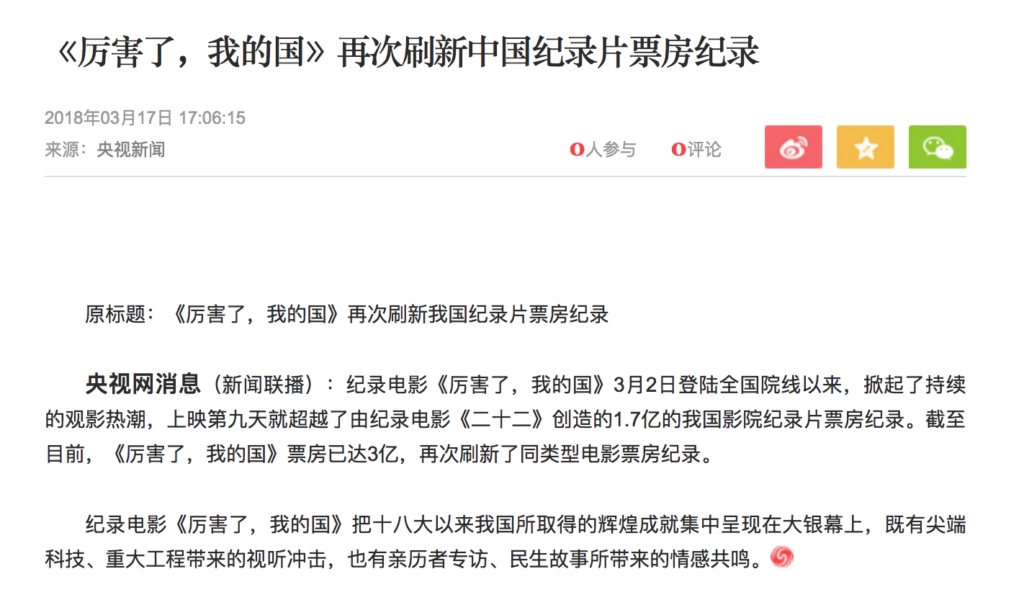 The astonishing box office performance and the overwhelming compliments the film has received thus far finally got the two of us curious enough to go and check it out. But we weren't thinking about watching it for the entertainment. Rather, we were on a mission to explore the Chinese government's modern-day propaganda mechanisms. Exactly what resources have the authorities deployed for the film, and more importantly, is it any good?
The Hymn Singers
On March 2, during a casual mid-day Weibo wander, we noticed something unusual. At least 10 Chinese celebrities – including some of the most influential ones with millions upon millions of followers – were promoting Amazing China through their personal accounts at around the same hour. Full of exclamation marks and flattery, these Weibo posts were clearly pre-written by someone else and handed to the celebrities with orders from the top.

Celebrity endorsement on Weibo.
It wasn't just the celebrities who were singing the film's praises. Since the film premiered, internet companies, in particular consumer-facing, social oriented platforms such as Taobao/taopiaopiao, Weibo and Kuaishou, have all launched online campaigns, some directly promoting the film with posters and hashtags, and some engaging users in entertaining activities in support of the film's nationalistic rhetoric. Altogether, these platforms performed coherently and willingly to fulfill their roles in the overall Amazing China propaganda package: to say only good, to shut down the negative, and to say more good.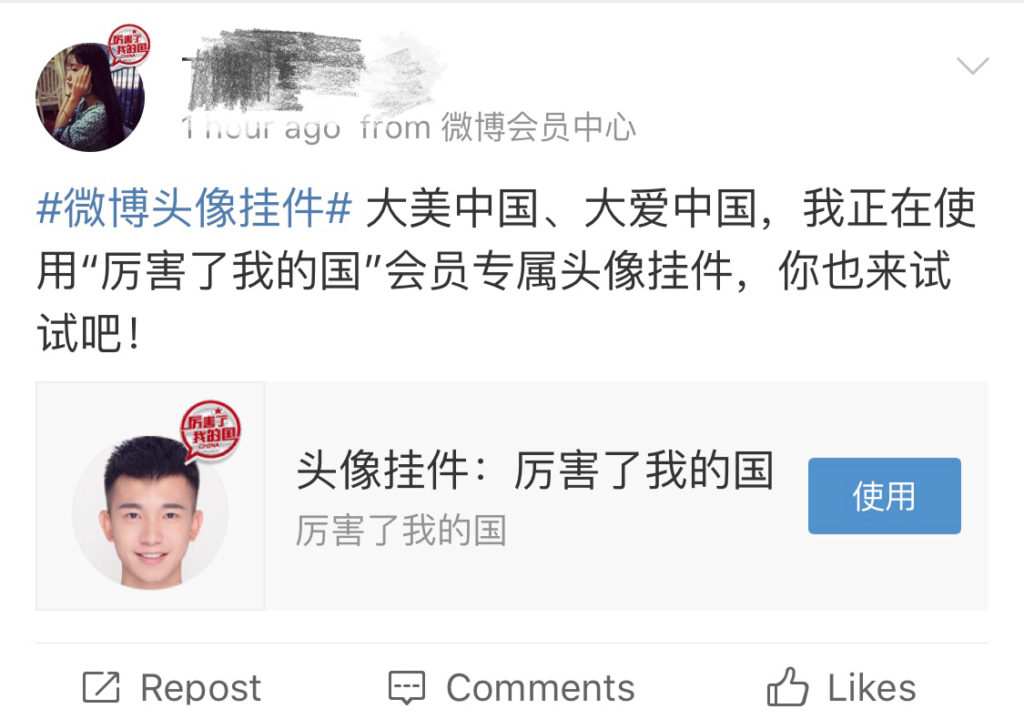 On Weibo, an Amazing China-themed profile picture accessory was made available for users after the film hit the silver screen.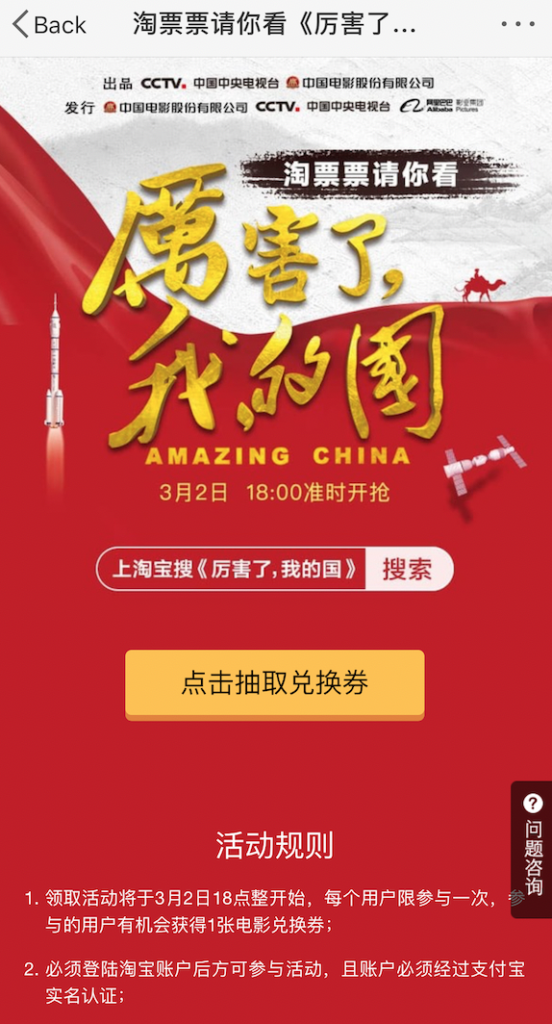 Taopiaopiao, a major movie ticketing platform owned by Alibaba, launched Amazing China ticket giveaways in conjunction with Taobao.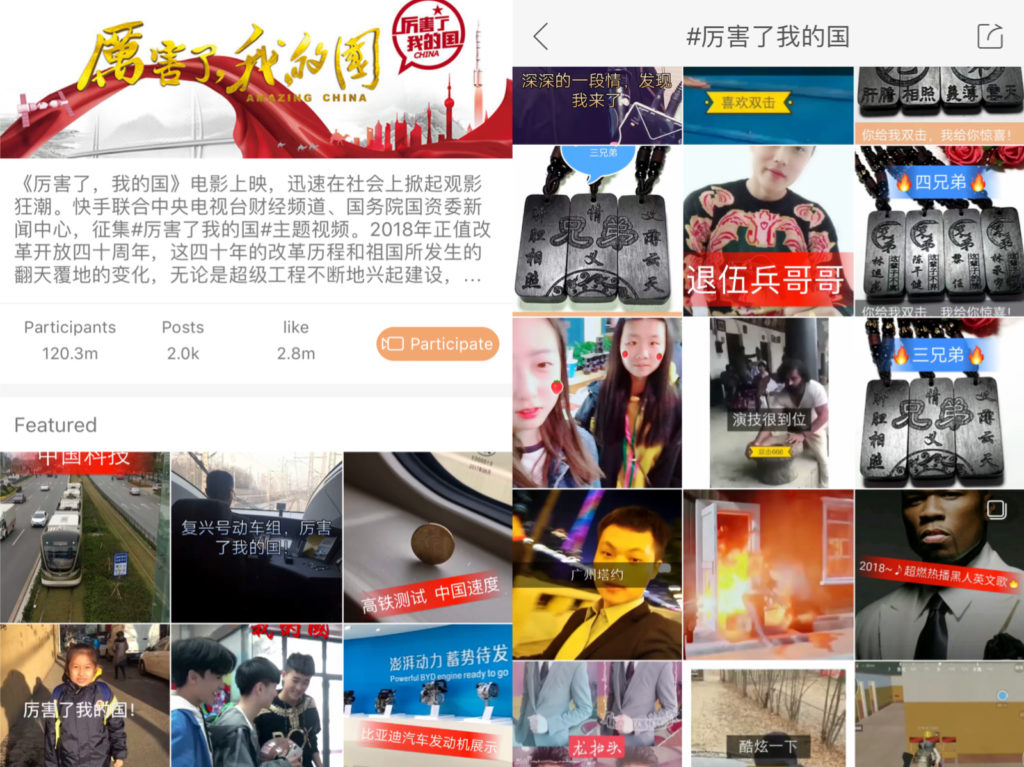 Kuaishou's "Amazing China" campaign. Users were encouraged to create short videos to show their pride for the country's development under the hashtag #AmazingChina.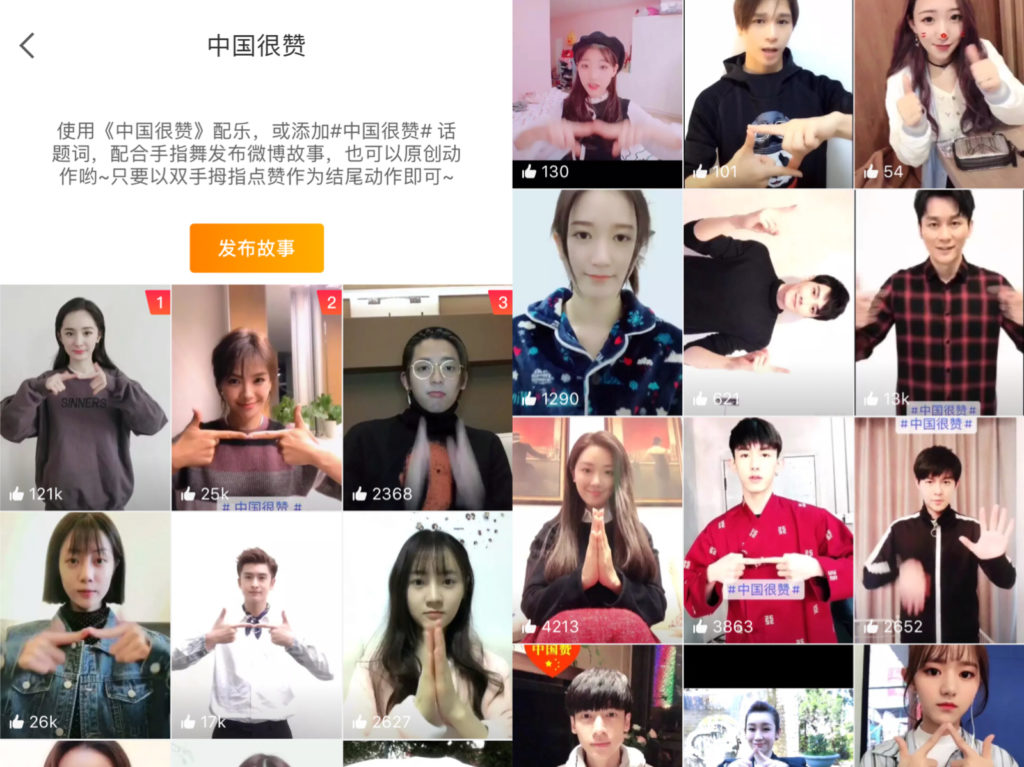 Weibo's "China is Awesome" campaign. Originally created by the People's Daily, the campaign provides instructions for a "finger dance" in synthesis with a song filled with nationalistic lyrics. Many celebrities have participated in the video-making.
Shocked by the mounting rave reviews of the film, we proceeded to Douban, the social platform where users tend to rate and review movies in a more liberated and honest gesture. But guess what.
Apparently, Amazing China is too special for comments, reviews or ratings whatsoever. Users are not allowed to say a word about the film, and all it shows on the page is an 8.5 "media score". Who scored it? Based on what? No one knows.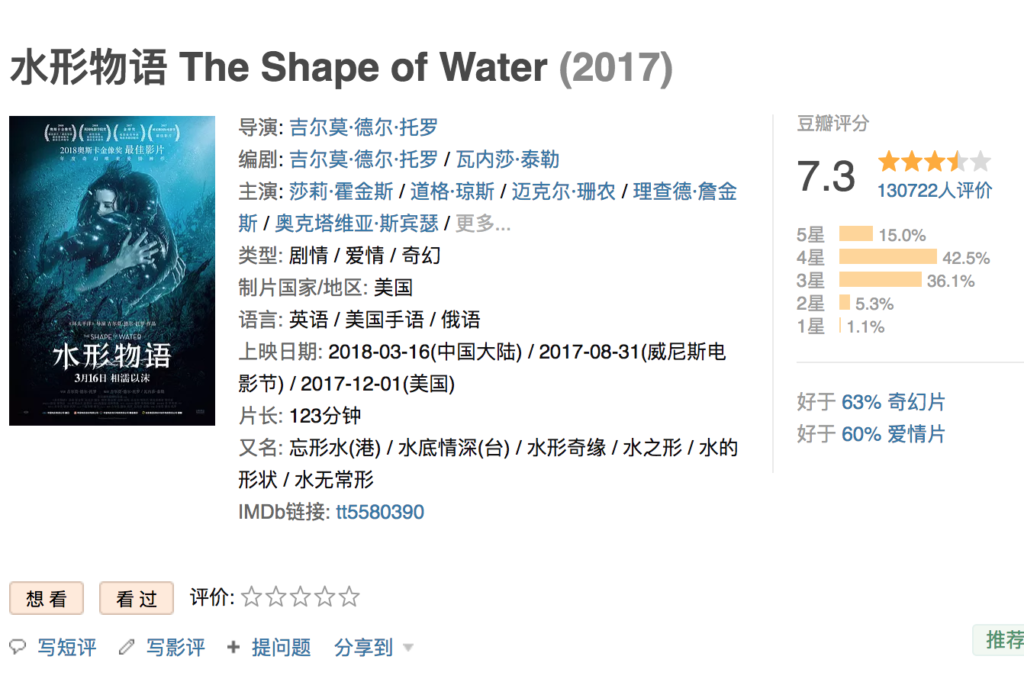 A "normal" Douban film profile with user reviews and scores on the right.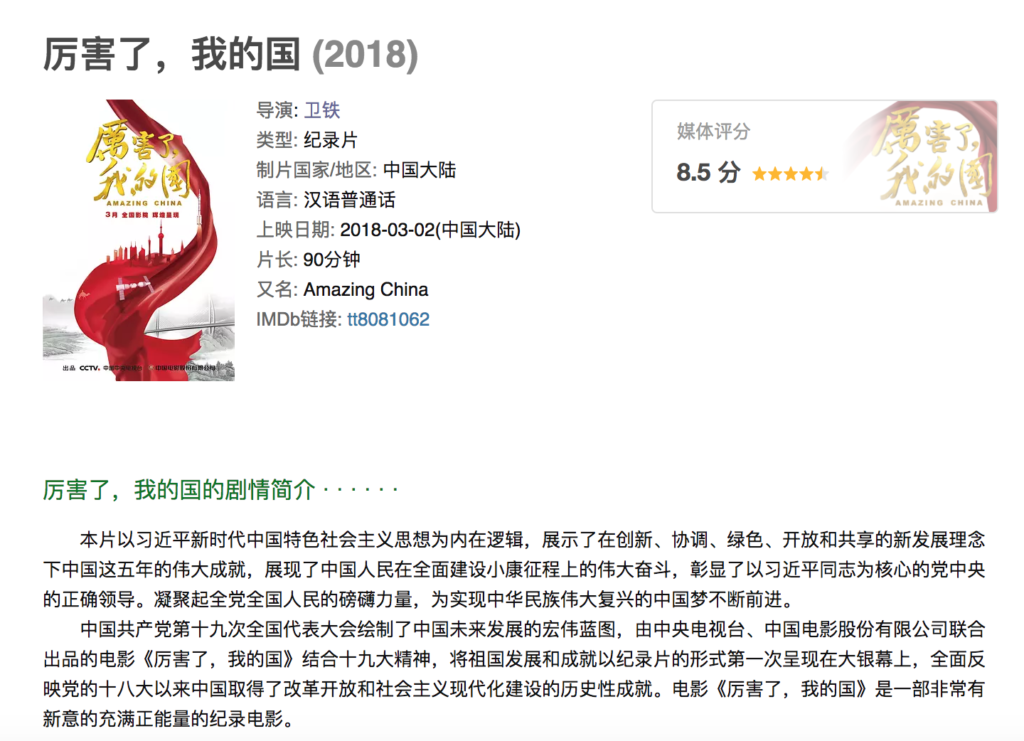 Amazing China's profile with only "media reviews".
The Box Office Makers
On Thursday evening, I opened the Maoyan app in search of movie tickets. We were planning to watch it on Friday night, a time that cinemas tend to be the busiest, hence suitable for our people-watching fieldwork.
To our surprise, there was absolutely no evening session scheduled for Amazing China. In fact, all the available sessions were either in the early morning or mid-afternoon, with nothing later than 6pm.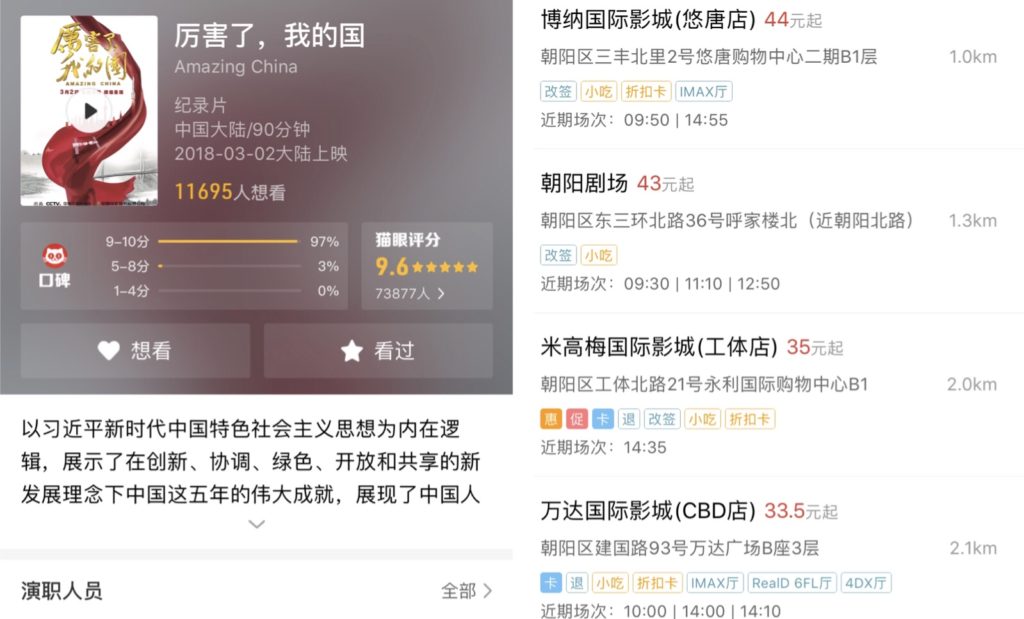 And an even bigger surprise awaited. When we finally spotted two late-afternoon sessions and clicked in for seats, a notification popped up: both sessions were completely sold out, not even a single corner or back seat available at all. I played around with some more cinemas and different show time options, the results?
Sold out. Sold out. ALL SOLD OUT.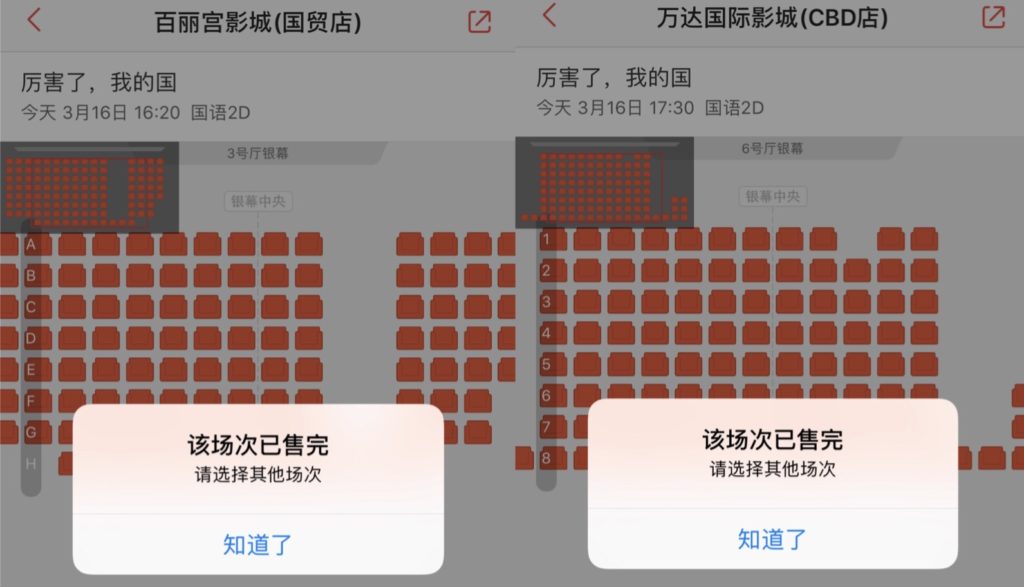 At this point, we finally figured out what was going on: behind Amazing China's astonishing box office lays a giant, multilayered sales-reinforcing system ordered directly from the top. What have appeared online – the sycophants, the flattering promotions and the flamboyant posters – are only there to create a gaudy illusion for what's been happening offline: millions of Chinese, all mobilized, going to the cinema under obligatory viewings.
Obligatory Viewing: in four (oversimplified) steps
First, an official document (aka a "red-headed document" 红头文件 ) was released from the top to cinemas across the country. In this case, it was from CRTV, a national enterprise directly under the State Administration of Radio, Film and Television.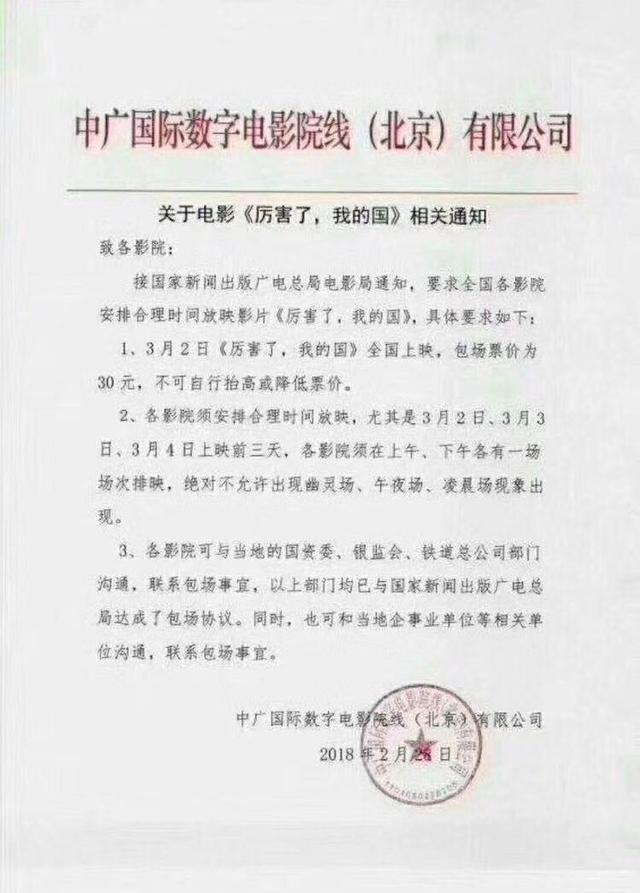 According to this notice, cinemas must fix single ticket prices at 30 yuan for those that intend to book the whole show. Also, cinemas must "arrange the show times reasonably to make sure there is at least one session in the morning and one in the afternoon". Empty-seated or midnight sessions are "absolutely prohibited".
Next, notices from local government agencies, state enterprises, schools and all the other "in-system" organizations to call for mandatory attendance: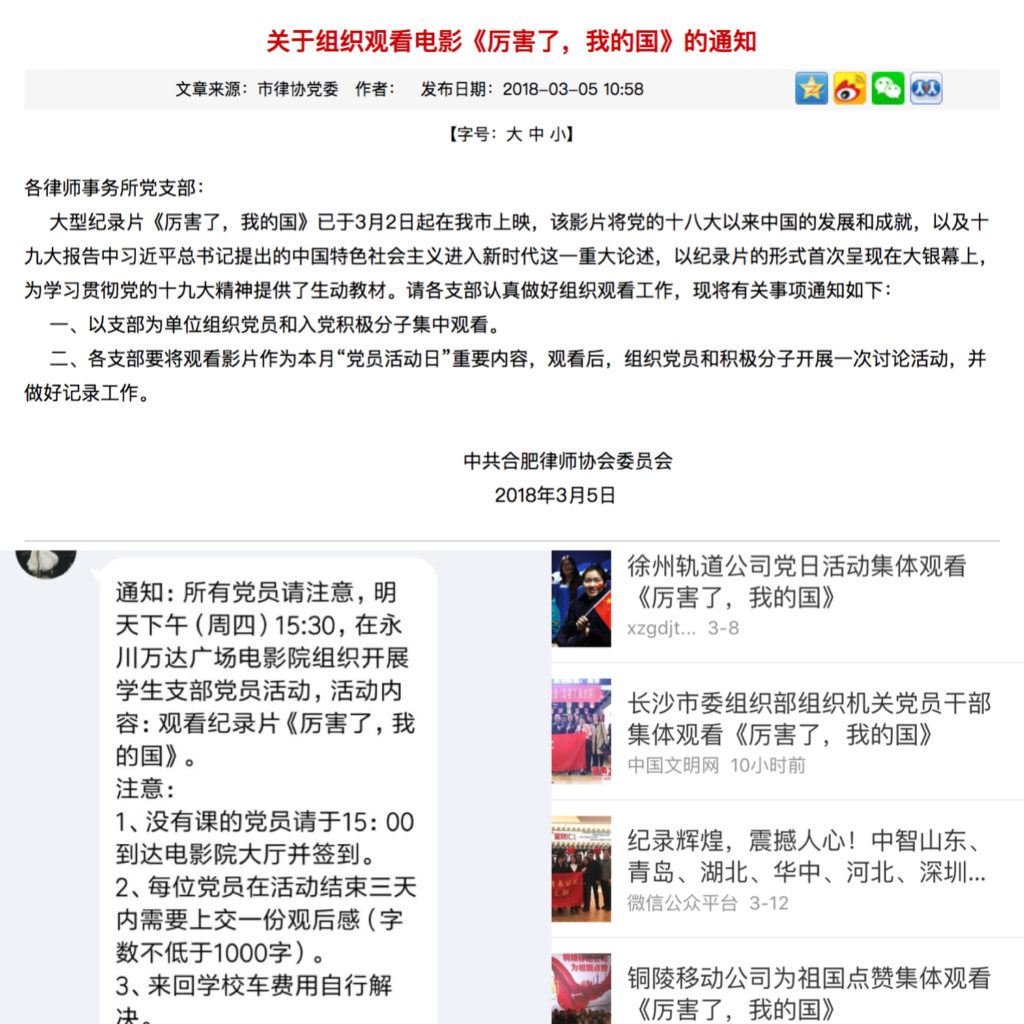 Finally, the bureaucrats, employees, students, workers and more would step inside the cinema, happily taking two hours off from work to watch the documentary for free. Like other CCP-style group outings, it would end with a group photo that involves a red, big-slogan banner: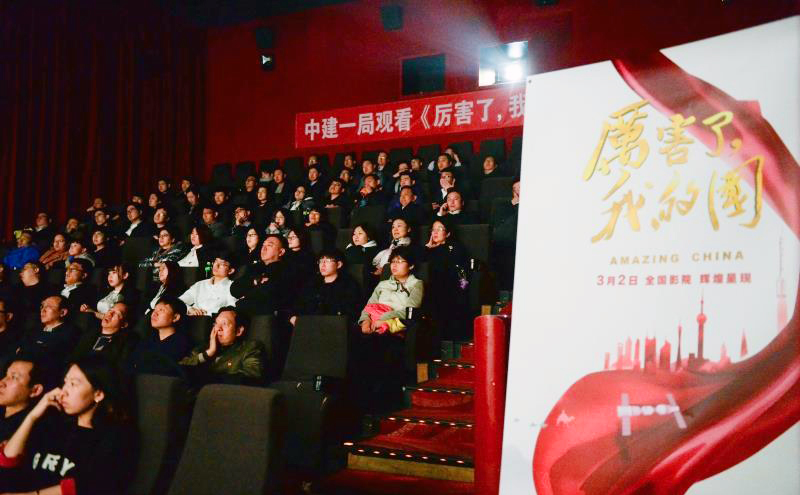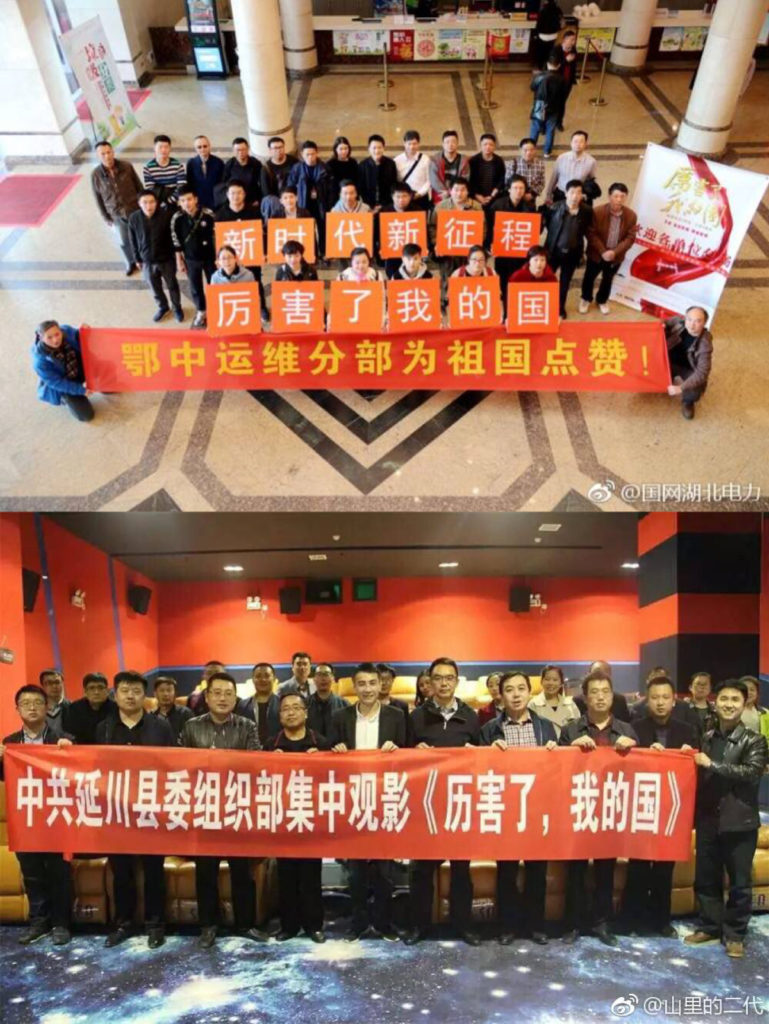 An extra bonus for some – mandatory film reviews as homework!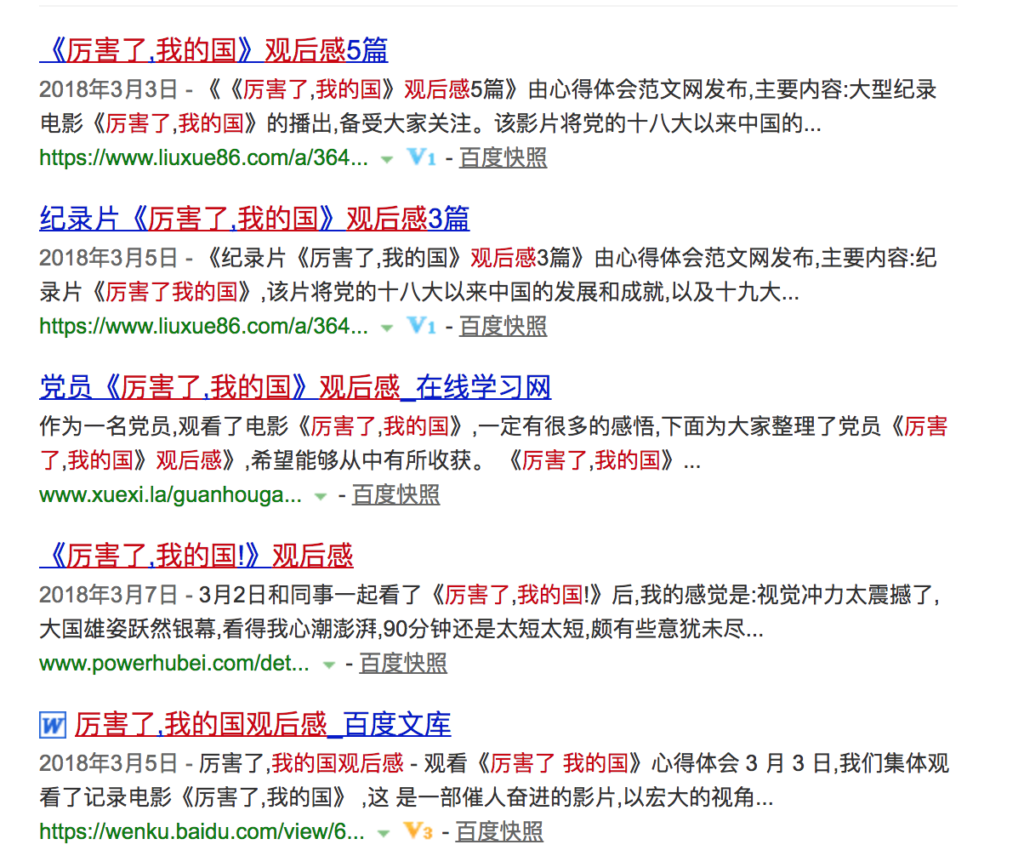 Try search "Amazing China + review" on Baidu, you'll be amazed by how many people are asking for it…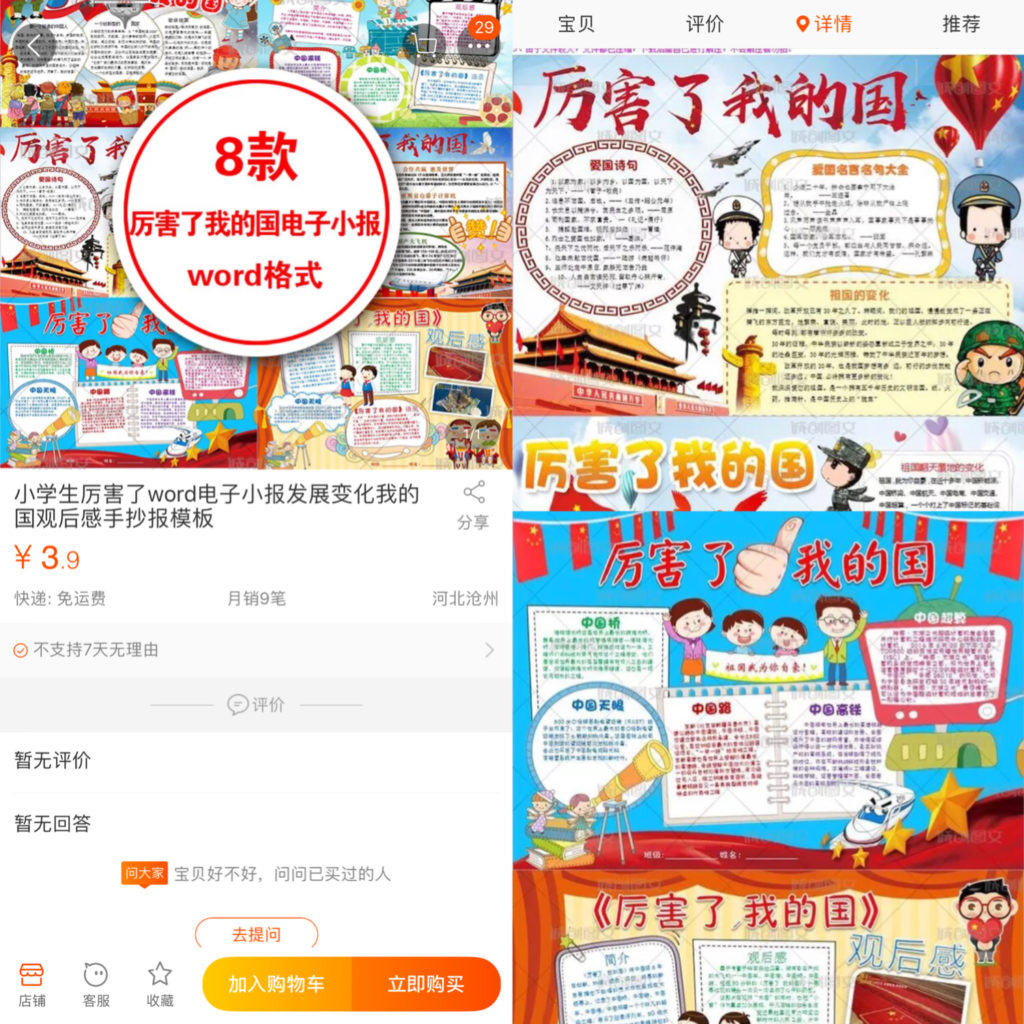 "Primary school homework template" for Amazing China, on the almighty Taobao.
Friday March 16, 5:50pm.
When Yan and I arrived at the cinema, the staff there checked our tickets while giving us an odd look that seemed to beg the question: "You two bought your own tickets for this film?"
We nodded, almost glowing with pride. Passing the jarring stares, we walked through the gate and were seated in the front row – it was the last two seats I managed to grab the night before.
Now finally, on to the real business – the documentary itself.
Here's the weird thing: right on the way out of the cinema, I was still super hyped-up, thinking that we should write a detailed review about the film. Two days later, when I actually sat down and thought about the film itself, my head turned completely blank.
If I think harder, I could come up with some bits worth mentioning. Perhaps. The music was, well, super loud (honestly half way through we thought we'd go deaf) and pungent to say the least; throughout the entire 90 minutes, there was only about two minutes without background music. That was when President Xi was delivering a speech. Every scene was fervent, filled with mega aerial shots, (over)saturated colors, and professional, fast-paced editing. The storyline was not that bad either; not only did it throw out tons of figures (with no promises in regards to reliability) about China's advanced development projects such as FAST, the world's largest radio telescope and Whale 2, the world's largest maritime drilling platform, it also narrated "real" stories of individuals. In 90 minutes we see interviews with Tibetan peasants, private entrepreneurs, young engineers and scientists, and they all sounded sincere, looked happy, and, of course, attributed their wonderful life to the country, the Party, and the great leader Xi himself (Xi was the only cast for the entire film, of course).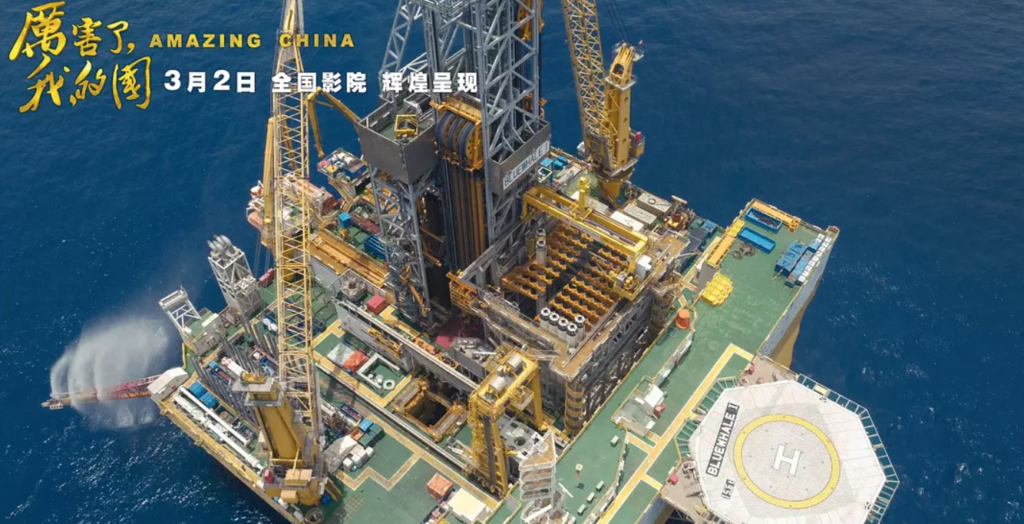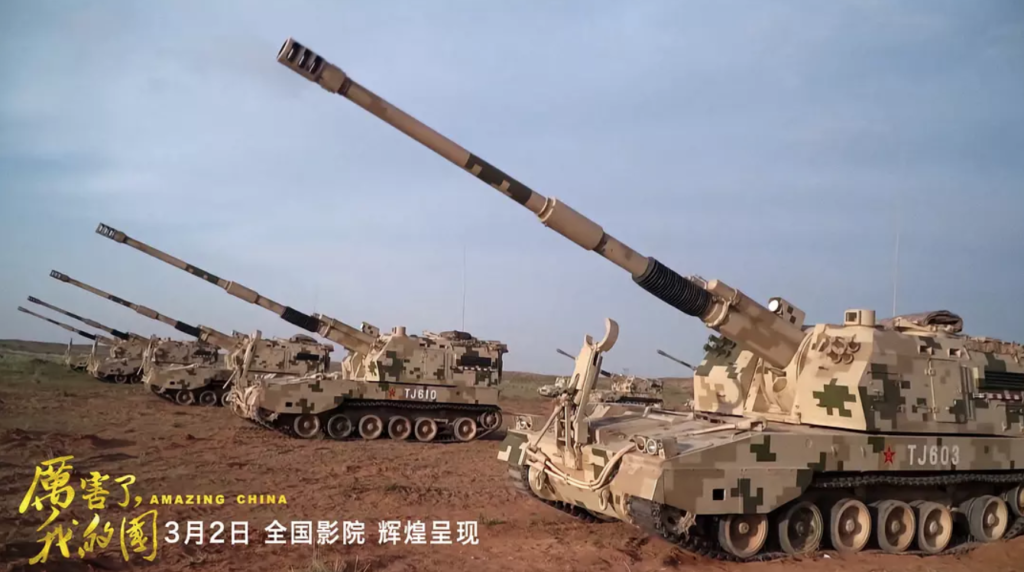 And that's really about it.  Amazing China, like other propaganda films made in human history, provides its audience the full indulgence of the present while professing the nation's economic miracle. The film itself rallies such a provocative tone that, during the entire 90 minutes and perhaps a full hour afterwards, the audience would still be incapable of objective evaluation of any kind. It does what great propaganda does – makes you believe, without you even realizing it.
But the film did inspire us to dig harder into the CCP's now integrated, "internet+" propaganda strategies. More profoundly, it made us realize how alienated we are to the system – the giant governing machine that's in fact getting even mightier, tougher and more powerful than in previous decades.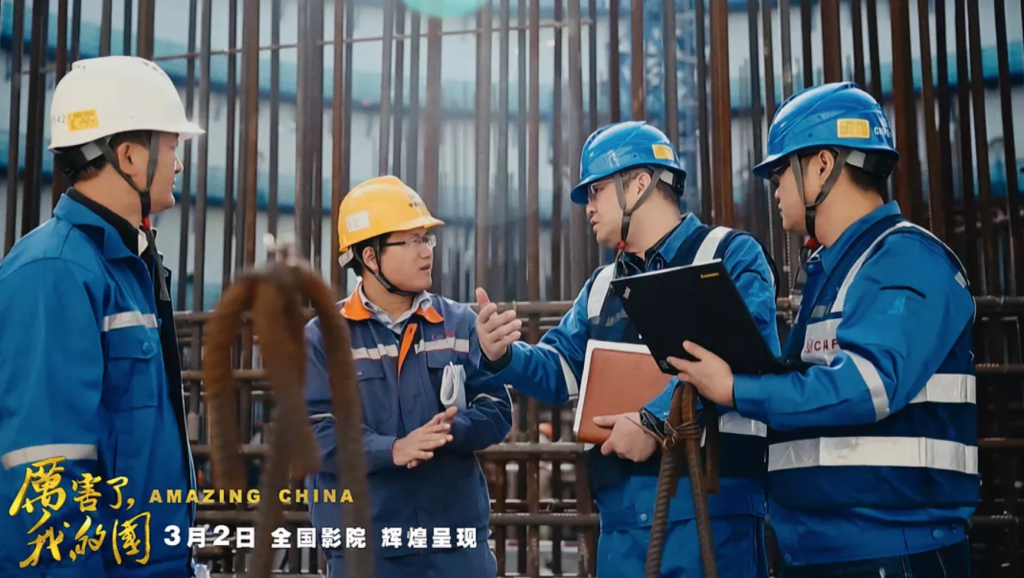 Like we mentioned in our previous article, again, we see a concrete, shielded wall: on one side there are individuals like us, self-considered liberals that work and live on the "privatized" side of China, not associated with politics in any way. And then there are those – including some of our relatives and distant friends – who are working in government agencies, national enterprises or public institutions. They are the ones that actually study the policies, understand the Party rhetoric, and, in the case of Amazing China, have fed the film with its ever-so-mighty box office numbers.
Thinking about this separation in conjunction with the film's promotion strategies, the irony lays out bare. At the end of the day, people on our side of the wall would never go to watch a film like Amazing China by ourselves, no matter how many times we stumble upon its promotional posters or slogans. Meanwhile, those who are actually watching it, the insiders, are simply doing so because they are paid to. Who exactly was the film made for? Has its means really served its ends? And what are its ends anyway?
Too many questions, and, perhaps, not so many new answers.