The Victory of #IamGay: Have We Really Won?
From April 13th to 16th, a massive online protest was held against one of the largest social platforms in China, Sina Weibo, for its controversial clean-up campaign against homosexual-related content. Four days after the announcement, Weibo reversed its policy and announced that it would no longer be targeting gay content. While Chinese netizens celebrated this victory, we couldn't help but wonder, to what extent have we "won"? And, in the long haul, what can we really talk about in this country?
Friday April 13th, Day 1
In the evening, Weibo's Community Administrator published an announcement, "In order to create a clean and harmonious online environment and follow the relevant internet laws," wrote Weibo, "we are starting a 3-month clean-up campaign to remove comics, videos, and written contents relating to sex, violence, and, homosexuality."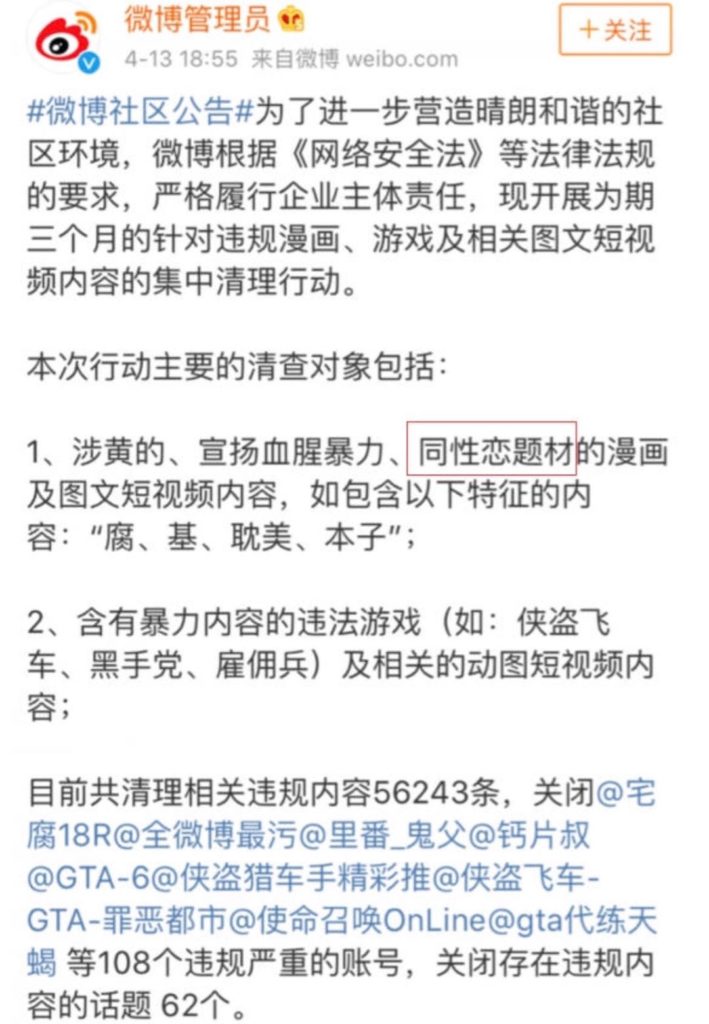 A few hours after the admin notice, LGBTQ Voice, one of the most prominent independent media for the Chinese gay community, announced that the editorial team would be terminating new content due to "force majeure".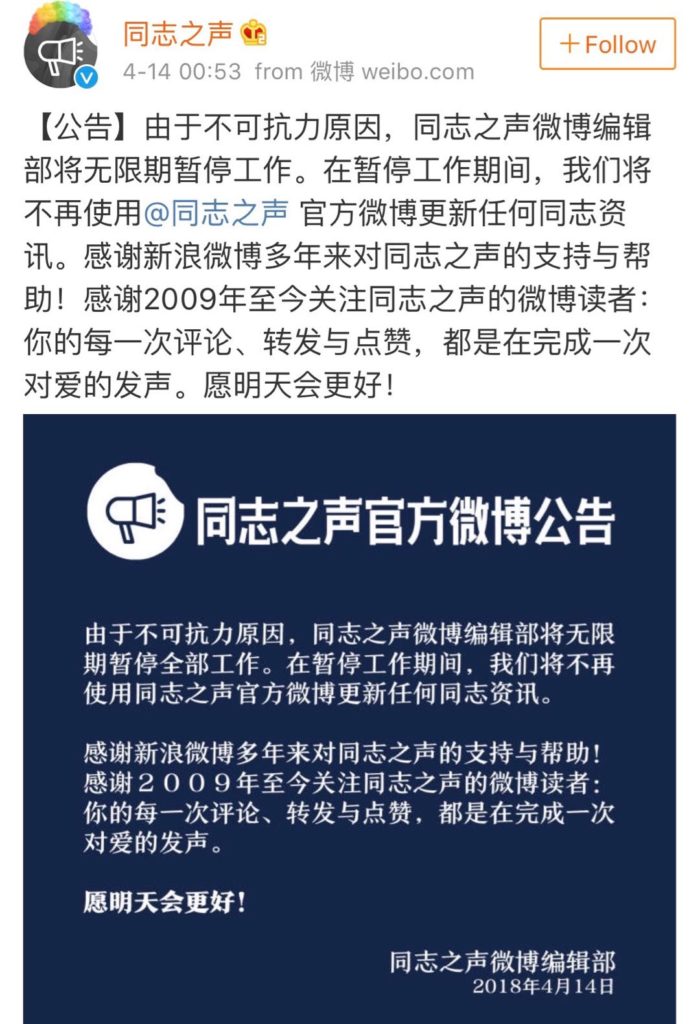 Saturday April 14th, Day 2
For the entire day, Weibo was flooded with rage. Users relentlessly posted rainbow emojis, photos and videos in support of gay rights, and some began to directly "@"the Weibo admin account demanding further explanation. What exactly is the legal reference for this ban, and why, in 2018, is homosexuality still being discriminated this way? Feeling shocked and shattered, people called on answers for those two questions altogether.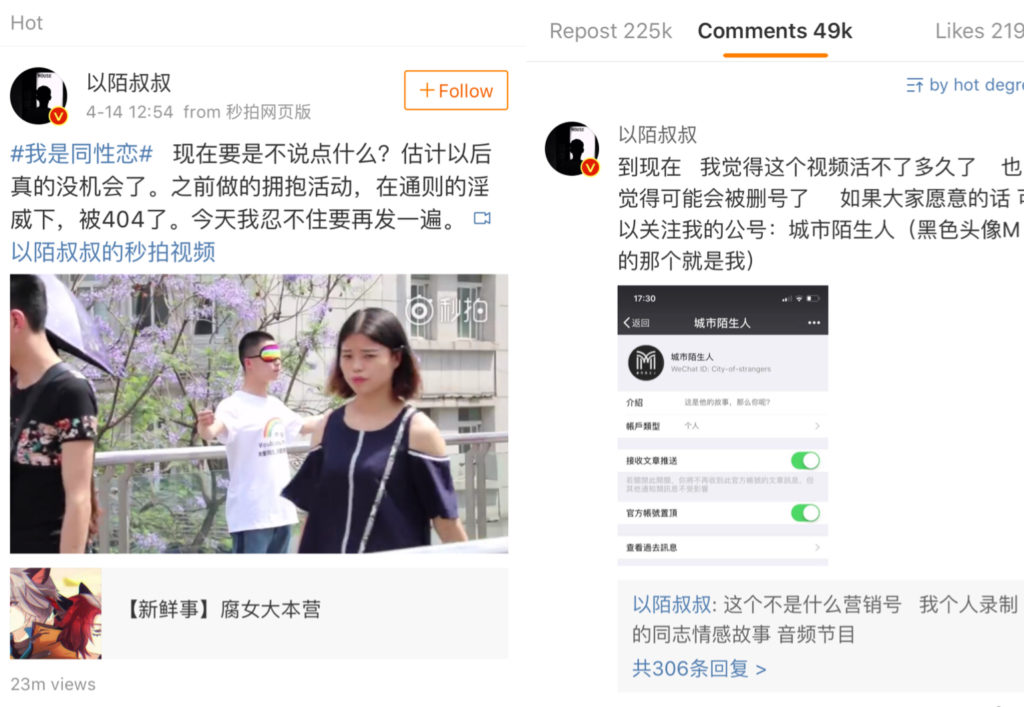 A short video in support of gay rights had received over 225,000 reposts and 49,000 comments by the 14th.
We watched and participated in the online protest while anxiously waited for censorship to kick in. Based on our previous experiences, when public outrage accumulated to a level like this, the authority would definitely start to repress and quash any potential dissent. Deleting posts, filtering key words, banning accounts or even having the police to knock on the doors of those who spoke the "controversial" – all are within the expectation for anyone living in today's China.
Censorship did come, only that it was carried out in a patternless, half-hearted way that made us to doubt our own presumptions. On Weibo, the #IamGay# topic was deleted, nonetheless the many alternatives hashtags came up by netizens remained alive. General discussions about homosexuality - many directly confronting Weibo and the authority's stances - also survived.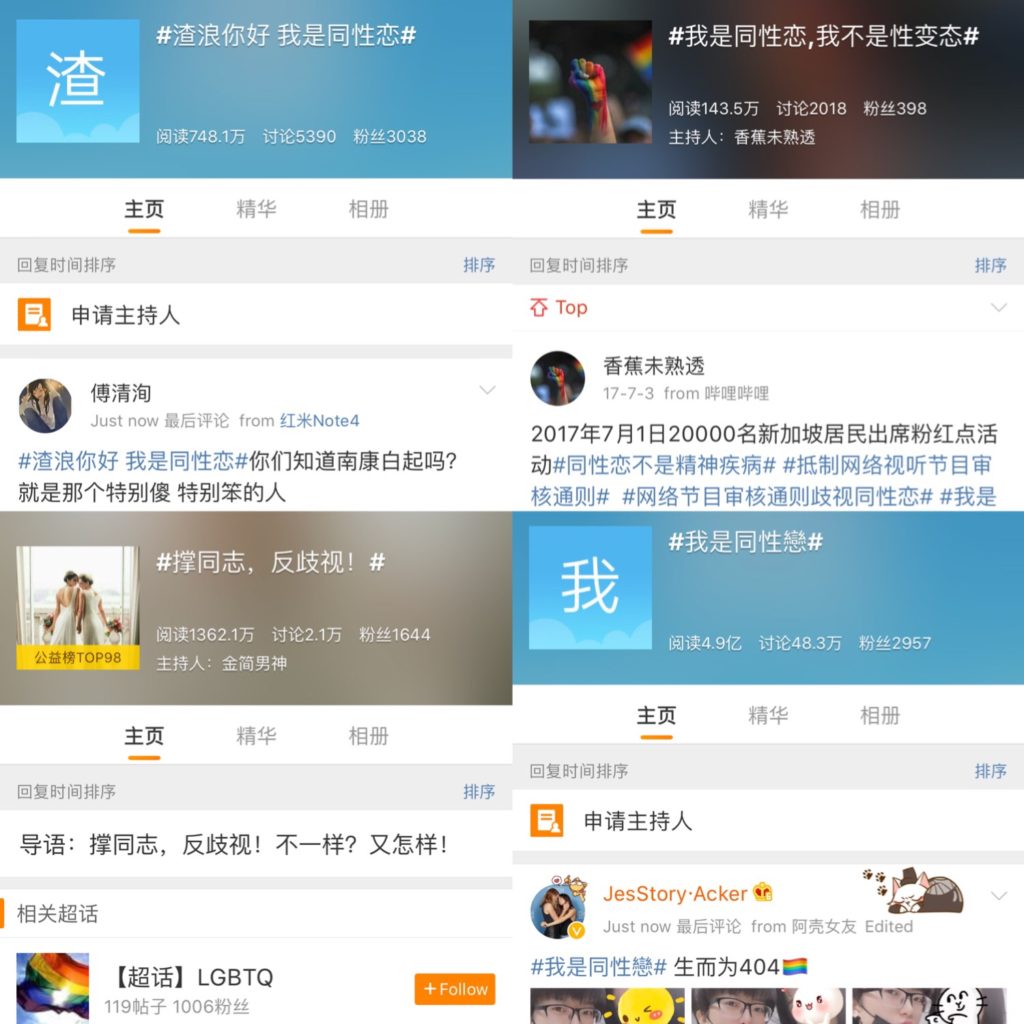 Some of the hashtags created by Weibo users in support of homosexuality.
-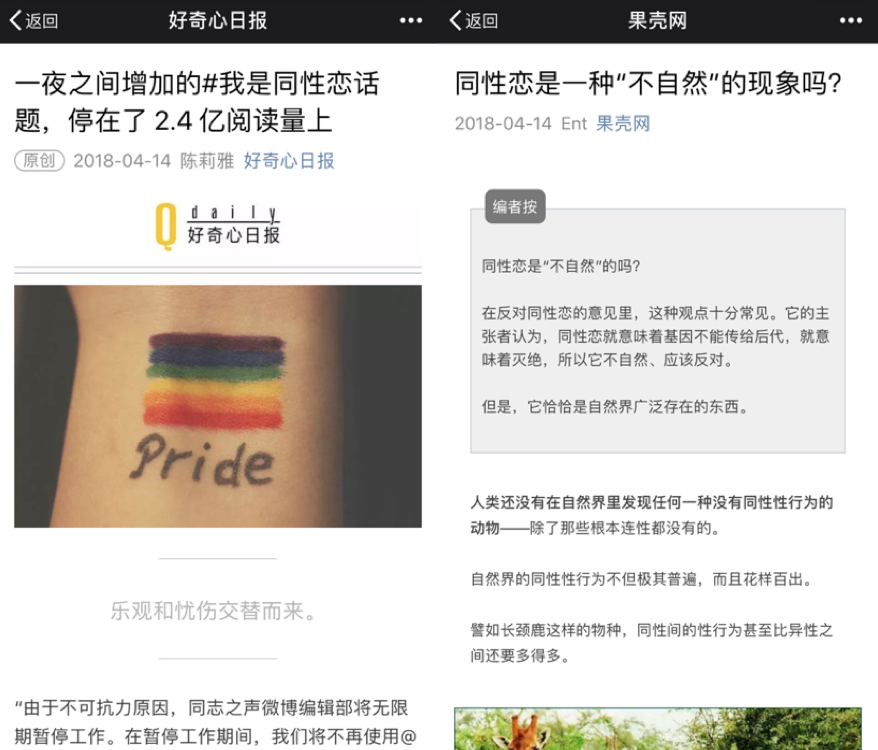 Local media reporting the issue and showing direct support.
Sunday April 15th, Day 3
A shocking twist hit in the afternoon when People's Daily, the official newspaper of the Party, posted an online commentary titled "All Fireworks Deserve to Shine". Using a recent sex-education textbook as positive reference, the article emphasized that "sexual orientations are diverse in nature, neither homosexuality nor bisexuality is a disease."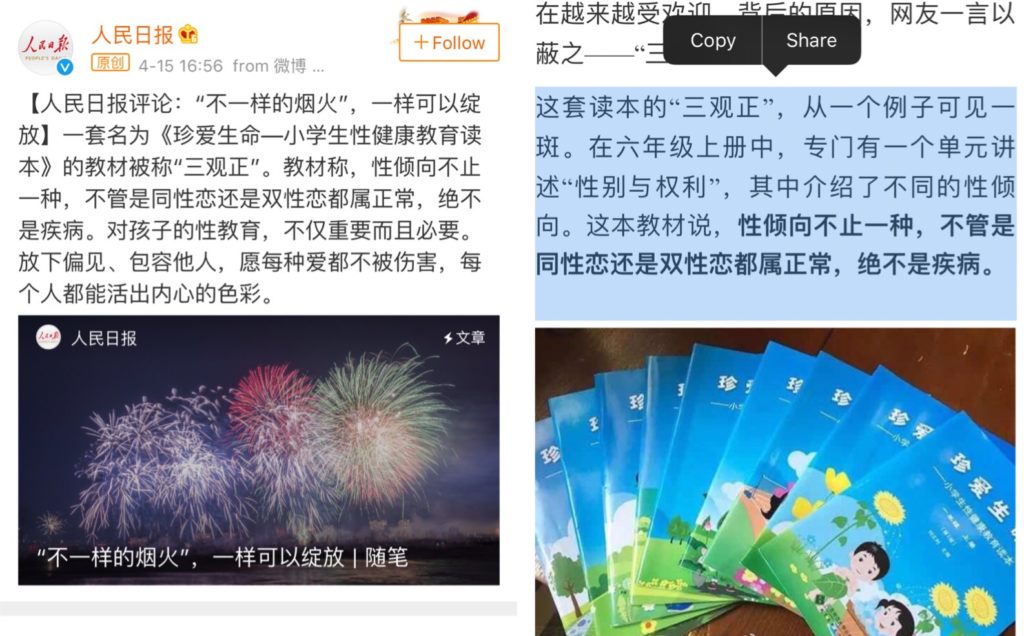 The official commentary from People's Daily.
What the heck is going on?!
Monday April 16th, Day 4
The big, dramatic ending came.
Around noon, Weibo's Community Administrator published a new announcement stating that this round of clean-up would no longer be targeting homosexual content -  it even thanked people for their suggestions!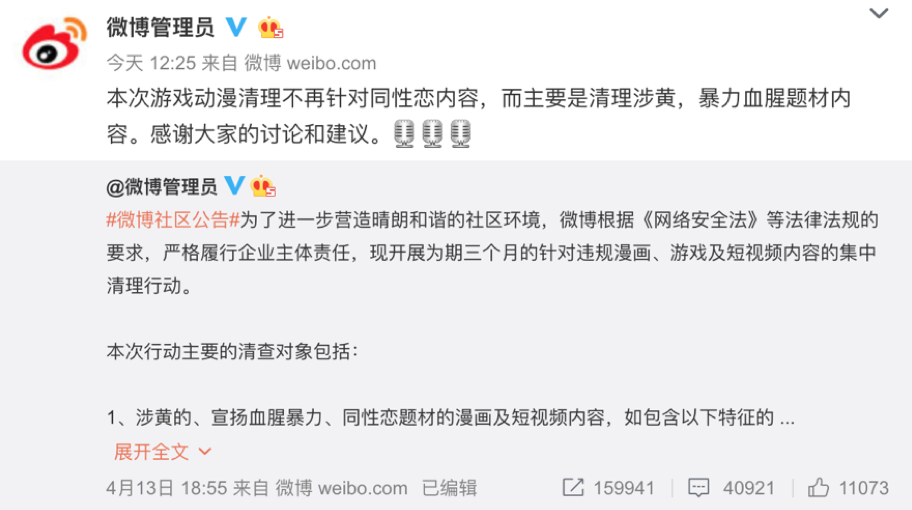 Two hours later, LGBTQ Voice announced that its editorial team would be resuming back to work. It thanked everyone who participated in the online protest over the previous 48 hours: "What you guys did shows that speaking up does make a difference. Our voices matter, and we are now ready to march on a new journey to support the LGBTQ community in China."
Now, one last turn: in the evening, the #IamGay# topic was restored back after 4 days of being "404-ed".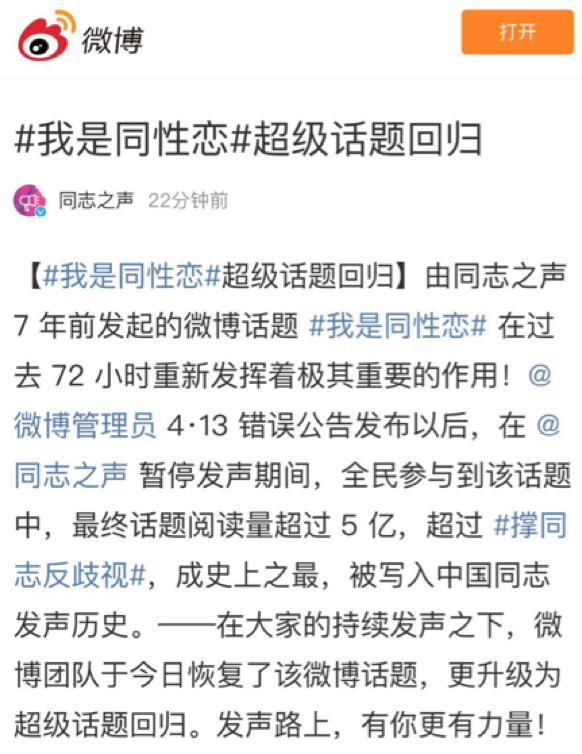 What a day.
Clicking into Weibo the next morning, I almost felt dazed: what exactly had just happened?
Inside the comment sections of LGBTQ Voices and other homosexual communities, people were still celebrating. Some were calling the previous four days a "triumph of the people and a "giant leap in Chinese gay rights"; "you see, love always wins!", one user said.
Elsewhere however, things had quickly returned to business-as-usual. Fashion bloggers were back on posting stylish selfies, news accounts were back on reporting the recent entertainment gossips, public influencers were back on discussing international politics from Syria to North Korea. Meanwhile, the people, including Yan and I, were back to our usual, mundane lives as how they were before April 13th. 
As much as we wanted to remember the previous four days as a joyful chapter in people's movement,  we couldn't help to think about a more pessimistic, or, realistic question that's been spinning in our heads: under today's political climate, what's really allowed to be talked about? What are the standards, and who understand them?
Over the past month or so, messy and brutal censorships have swept across a number of different issues here in China. First, there was the suspension of Feminist Voices, the most influential online feminist group with significant followings on both Weibo and WeChat.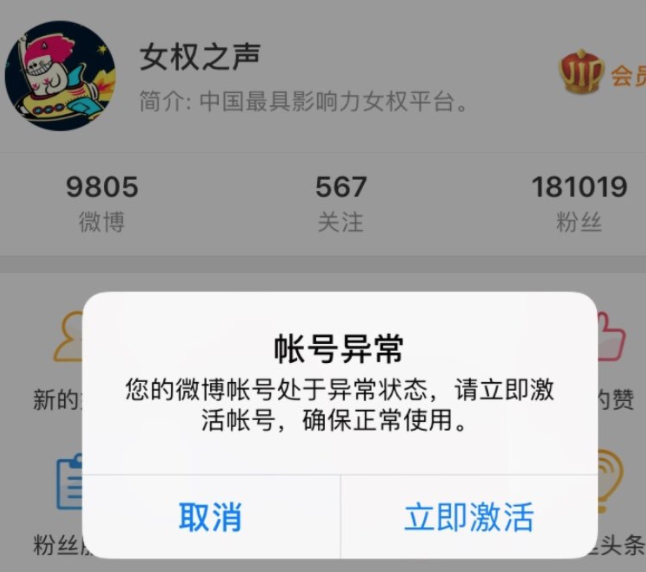 (photo from: SupChina)

Till this day, "Feminist Voices 女权之声" is still a banned keyword on Weibo.
Next, there were the two sexual assault scandals related to university professors: the suicide of Tao Chongyuan, a graduate male student from Wuhan University of Technology, and of Gaoyan from Peking University (the assault happened 20 years ago but the case was exposed online by Gao's former classmates in the beginning of this month). Although the various universities involved did issue public notices in the end, numerous online commentaries about these two cases have been deleted, and those who tried to speak up for the victims, including Tao Chongyuan's own sister, were being pressured to keep their mouths shut.
Tao Chongyuan's sister, who exposed the tragedy on Weibo, was forced to publish a public apology to the University and the professor at one point.
While the publics were still in rage over these two cases, on April 4th, the Chinese State Administration of Radio Film and Television (SARFT) issued a notice expressing "strong concern" over Kuaishou and Toutiao, two mega social/news apps that were apparently displaying too much "vulgar" and "harmful" content that was considered against "socialist core value". Founders of both companies both came out to apologize in an efficient manner, ordering immediate rectification and self-censorship through various methods, from hiring thousands of new in-house content checkers, removing "inappropriate" content and accounts, to amending and improving their current algorithms.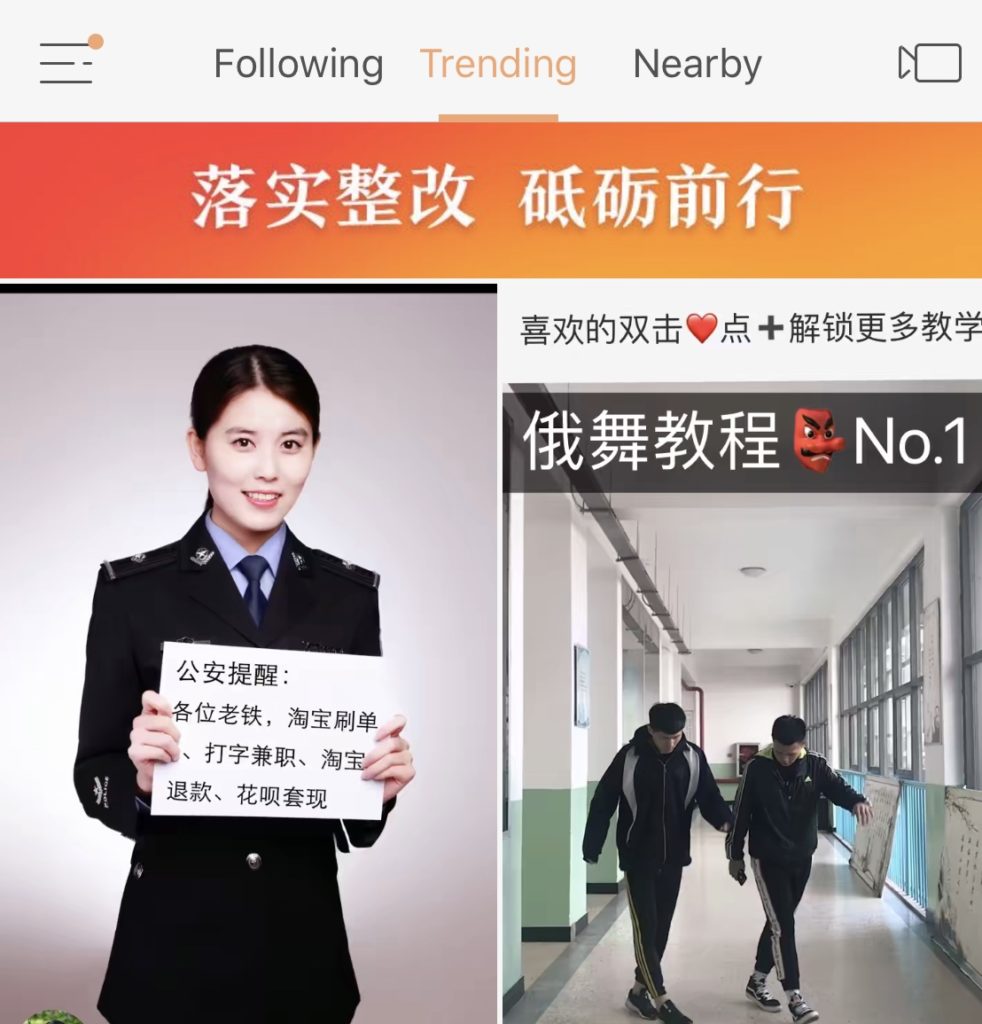 On Kuaishou's landing page hangs its apology letter in promise of immediate ratifications. 
On April 10th, four news apps in China, including Toutiao of Bytedance, were ordered to be removed from app stores for up to three weeks. Meanwhile, Neihan Duanzi, a subsidiary app of Bytedance that was known for jokes and "low-class" entertainment content with over 200 million users, was being shut down completely.
Neihan Duanzi and its online community have been eliminated completely.  
Viewing the 4-day Weibo drama in light of these events, we couldn't help but to doubt its "triumph" nature. As much as it being a success of the people, ultimately, it reveals an ironic and chilling reality: as the Chinese government tightens its grip over virtually all internet platforms, companies like Weibo are left with no choice but to self-censor, at all costs, and through all means possible. Although some domestic TV shows featuring gay content were called off by the authority in recent years, there wasn't any direct order on banning homosexual content in China just yet, and Weibo's clean-up notice on the 13th didn't specify whether the movement was self-initiated or ordered from certain government departments. Still, seeing other companies' recent problems in this new wave of government control, Weibo had to self-protect by doing the "right" thing: correct itself, before it was being corrected.
We are probably just ranting about the obvious. But really, the more we think about it, the more confused we get. Social injustices are not allowed to be talked about - fine. "Aggressive" verdicts over gender and sex should be eliminated - OK. "Vulgar" and "low-class" content must be removed completely – as much as we don't agree nor apprehend the definitions of these terms, we could try our best to half-heartedly accept it. Still, as citizens of China and people who care about social issues in general, we just need to know, what exactly can we talk about? What are the boundaries, and who gets to decide them?
Weibo doesn't know, other internet companies don't know, users don't know. And, at the end of the day, maybe even the top doesn't know.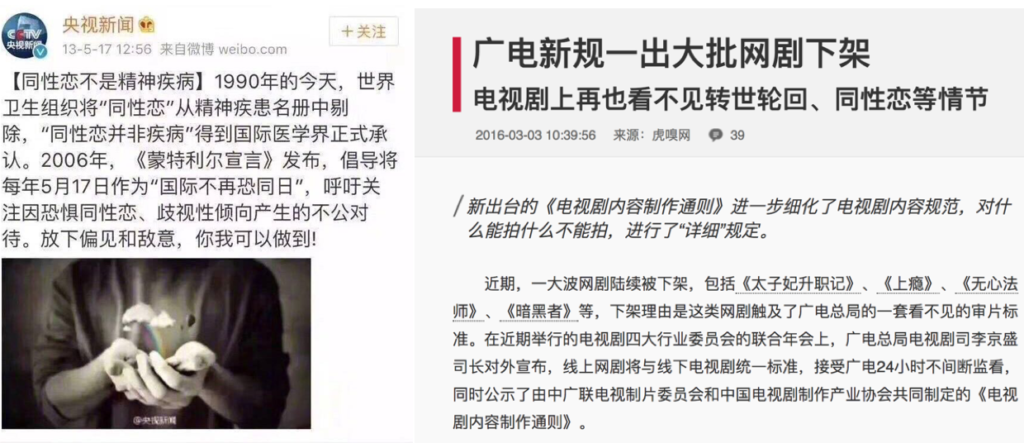 Left: a Weibo post from CCTV, China's Central Television Station that called on the publics to accept homosexuality without prejudices. The post was published in 2013.
Right: in 2016, SARFT ordered the elimination of homosexual content in domestic TV productions.