How China's Square-Dance Created a Hundred-Billion Market
The Takeaway


Square Dance, aka "Guangchang Wu 广场舞", refers to the kind of rhythmic dance in public spaces such as squares and parks by mainly female elderlies for fitness, leisure and social purposes.
With the actions of policy and capital, star teachers of square dancing became the first beneficiaries of China's Square-Dancing fever.

According to estimation by the Chinese Square dancing Industrial Report, there are nearly 100 million people in China today take part in Square Dancing. Most of them are female retirees born in 1950s or 60s. The financial power they hold props up a market valued a hundred billion covering health keeping, money management, traveling, consumer purchasing and many more.
Seeing a new market flourishing, all kinds of businesses are keen to taking a share of the pie. According to The Report, three categories of goods on Taobao are particularly related to Square Dancing: loudspeakers, opera-watchers (the large-screen MP4s which aim mainly at middle-aged and elderly people) and dance costumes. All together they add up to an online sale volume of more than 25 million RMB per month. (According to conservative estimation, the offline sales volume is at least ten times more).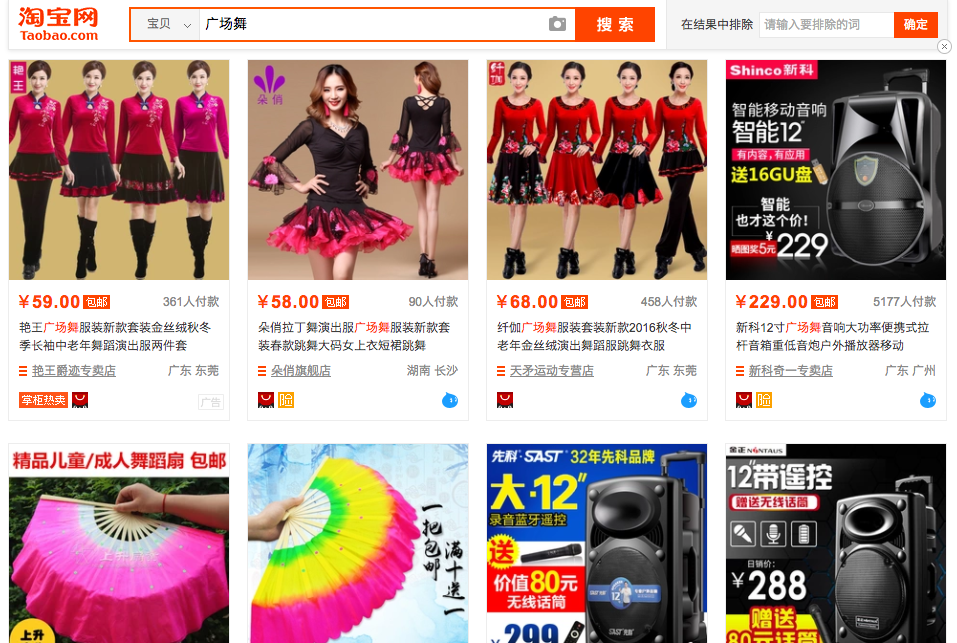 Apart from selling consumer products, many businesses are also leveraging Square Dance as a profitable marketing channel. Since 2013, China Citic Bank has held three national Square Dance contests to promote its "Happy Times Card" serving middle-aged and elderly people. It is reported that each contest it held can bring more than 100,000 new card registration to the bank.
In 2015, the year that is often regarded as"the Goldren Year of Square Dancing Startups", a batch of apps and Wechat public accounts which provide Square Dance video tutorials came out. Their business model is to gather users onto their video platform, then diverting them to costumes and health-keeping products sales.
The magic weapon these platforms have to attract their users is the "star teachers". Tangdou Square Dancing, an app that launched in 2015 and raised 15 million dollars in B round investment in Sept 2016, have signed more than a hundred teachers, each of whom has a large group of loyal fans. According to the report on "iheima.com", the Taobao clothing shop of a star teacher had sales volume of more than 70,000 yuan per week and 70%of the buyer entered the shop and finish purchase by searching the name of the teacher directly.
Meet Meiju: the Beyonce of Square-Dancing 
Meijiu's real name is Zhou Yehong. Born in 1970 in Henan, she started working in a local bank after graduating from college. From 2006, Meijiu started to dance with her colleagues in the square when they were off work. The first day they have twenty people to dance with, fifty for the second day and soon they had more than a hundred. Meijiu took the role of choreographer and leading dancer.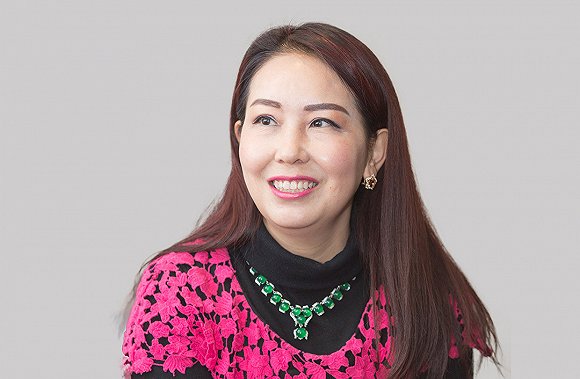 To many fans, Meijiu is like the Beyonce of star teachers. In the world of Square Dancing, there are 25 QQ groups and more than 100 WeChat groups created surrounding her. (the member limit for both is 500)"I have tens of millions of fans for sure. There are a hundred million middle-aged Square Dancers and half of them know who I am."
She shoots dancing videos and sells them to major platforms. "Normal teachers can sell their videos for three to four hundred yuan each. But I can sell my videos for more than thousands yuan." She is also the endorser for cosmetics brands, the judge in Square Dancing contests and the VIP guest in promotion activities which offer her more than ten thousand yuan for just showing up. Once a medical corporation requested her to choreograph calisthenics and she described the pay as "very good, more than a hundred thousand."
And those songs chosen as the background music by Meijiu in most cases will also get very popular. "I am the trend-setter and the promoter for singers. It is well known in this field. Whatever I dance on gets popular." She said so with pride. Meijiu told us that she has more than 60 cooperating singers and her choreographies worth more than 3000 yuan.
"The More People Attracted to Square Dancing, the Better It Serves the Stability of Our Society."

In Meijiu's words, she "shot to stardom with one song and still hasn't hit the slump". In 2010 she wished to shoot her dancing videos for her daughter although by then her daughter didn't understand her passion towards square dancing."She thought my dance is so rubbish and we were just a bunch of bored grannies."Meiju laughed and told me. Even so, Meijiu still liked to dance very much: She and her six partners bought their dance costumes with 130 yuan each set, went to the local photographic studio, spent 30 yuan each to made their haircut and makeup and took their "debut" photograph.
When they shot their first dancing video they specially hired a professional photographer from a wedding company. After simple editing, Meijiu uploaded the video to Tudou.com and the video's click number roared within days.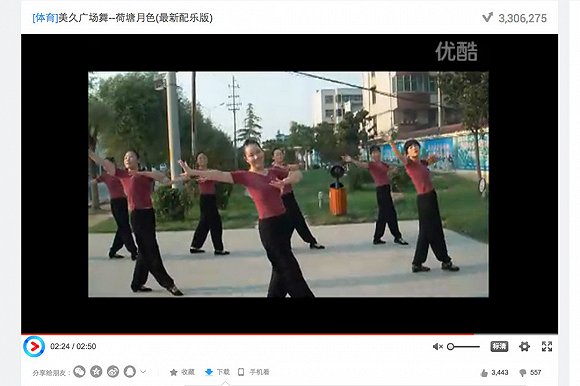 "Wow! Fifty thousand! How is that possible!" That was when Square Dancing was just emerging on China's major video streaming websites. The simplicity and uniqueness of Meijiu's videos quickly drew mass appeal: just a group of ordinary middle-aged females dancing beside the road or on the square with same costumes and simple movements, it got popular within days. Meijiu remembered that she searched for Square Dancing on Baidu and the "Mei le Mei le" song they danced to came right out as the second result.
Many of her peers found Meijiu's QQ account. She created a group and another two when the first one was nearly hitting the system's group size limit. A fan in Hebei Province even took a special trip to visit Meijiu in Henan. "It was not until then that I realized I had such an influencial power."
Right after that they shot the second video, with loose hair and leopard print clothes. "We wanted to set up our fashionable style."
Meijiu started to show up in all kinds of variety shows. She decided to make herself more exposed and her name a well-known brand. She had an ambitious goal: to lead Square Dancing to the national stage.
Meijiu thinks she caught the right time: "The more people attracted Square Dancing, the better it will do to the stability of society."
"I have now only a grateful heart. I am grateful to the public, to the time and to Square Dancing."

Meijiu loved dressing up in her childhoodbut was then "afraid to wear clothes so bright in color." In junior high school, her elder brother bought her an orange down jacket. She "caused such a great disturbance" wearing this bright color clothes that many students went to her classroom just to have a look. She had to change to a brown coat instead.
Today, Meijiu still loves bright-colored clothes especially when she is dancing ."I will always be the shining one. I love stages. This is why I dance- it is also a stage for me." Meijiu said.
After she became a star, many "Meijiu version" clothes appeared on Taobao. Fans would find and buy the same clothes as what she wears. "I am the leader in our own fashion." Meijiu added.

"We Don't Want to Be Marginalized By Society."
Meijiu often receives messages from her fans asking how to educate their kids, how to choose ideal schools for college entrance examination and what should they do when they argued with their husband. She used to receive messages from a mother who lost her daughter and was still suffering the pain after three years. Although the mother didn't know how to dance, she watched Meijiu's video online every day. 
Meijiu collects and replies these online conversations in a column called "Meijiu Q&A" in her Wechat account, and writes  chicken-soup-for-the-soul style blog posts to share with her fans."It is not the keeping-fit function of Square Dancing that attracts us. It is the atmosphere that matters." Meijiu said, "I am like back to work again, back to where I am needed."
Meijiu likes to update her fans about her public appearance on shows. "For my fans these are new information. They can go tell their family that their teacher is on TV shows. This will be something worth flaunting, or at least talking about."

Comparing to young people, middle-aged and elderly people are not familiar to the Internet. They have strong social desire but few approaches. And Square Dancing will be one approach that fits them back in the society.
There is a 60 year old acoustic master in Meijiu's  Square Dancing crew who was completely cut off from the outside world after retiring. Meijiu suggested him to buy a smart phone and helped him sign up a Wechat account. For the first day, he used up 100-yuan cellphone fee chatting with Square Dance friends online. In fact, he became so active on the Internet that the retired old man was like turned turned into another person. He started to share Meijiu's video, making photo albums with music and sharing his song after he got hooked to an online karaoke app.
"We don't want to be marginalized by the society." Meijiu often says this to her partners in the crew, "We are just a bunch of middle-aged women, dancing on the square after finishing dinner and wiping mouth. But now we made it into national TV. Isn't it fantastic? We need to be grateful and thankful. We need to dance well and create good tutorials. We need to keep our original heart."
Meijiu's fans are simple and unadorned. They often send Meijiu their homemade pastries, sausages and even shoe insoles. Still, Meijiu would feel frustrated sometimes for being famous. "I need to keep myself grounded. I have higher and higher status on the square but also fewer and fewer words to talk to others." But more often her heart is filled with the expectation for the future. She wants to endorse more brands, promoting her own brand and selling her own products instead of selling products for others. She will walk further on the road of being a choreographer and a judge.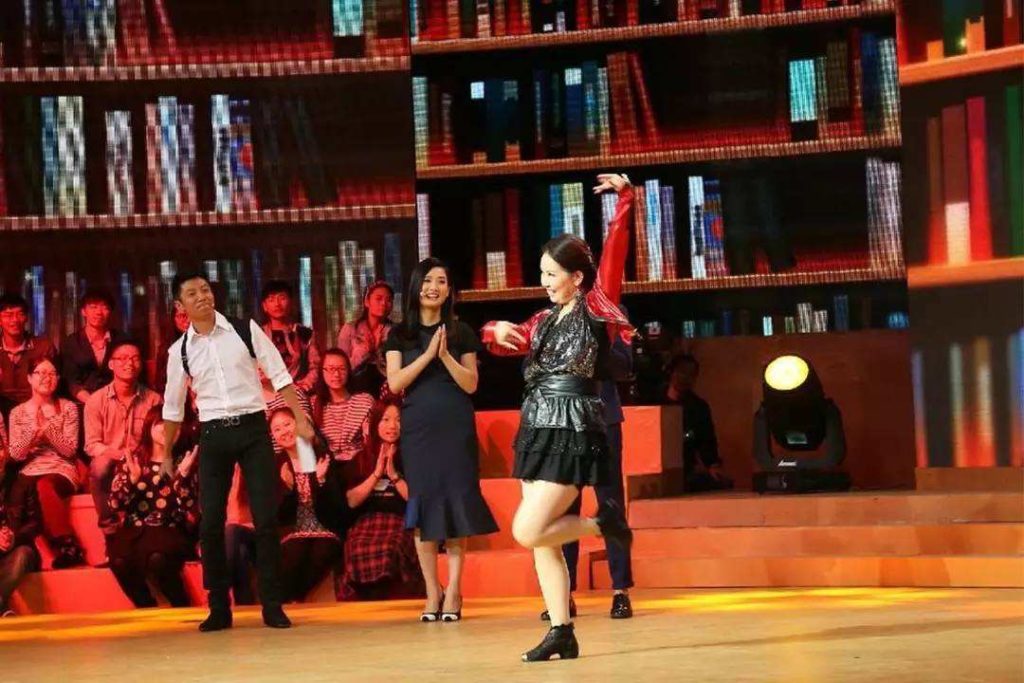 "Square Dancing made me a winner in life." Meijiu said.